Roll over image to zoom in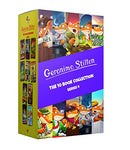 Titles In This Set:
The Wild Wild West
Operation: Secret Recipe
Magical Mission
A Very Merry Christmas
The Way of the Samurai
The Race Across America
The Mummy with No Name
Down and Out Down Under
Valley of the Giant Skeletons
Valentine's Day Disaster
The Wild, Wild West
Can scaredy mouse Geronimo tame the Wild West? There's trouble brewing in Cactus City when the evil Wicked Whiskers takes control of the town. With a little help from his friends, old and new, it's up to Geronimo Stilton to ride to the rescue. Yee-hah!

Operation: Secret Recipe
Join Geronimo on his most scrumptious adventure yet! Geronimo is having a fabumouse family holiday in Milan – home to delicious Italian dishes. That is, until a thief dressed just like him starts stealing precious items around the city. Who is trying to frame Geronimo, and can they be stopped?

Magical Mission
A statue in Trafalgar Square has come to life and it's yelling insults at passers-by! What does this have to do with Geronimo Stilton? Not much until Secret Agent 00K asks him to solve the mystery. But Trap's set on travelling to London too, to take part in a huge magic show. Who knows what chaos will be sparked along the way?

A Very Merry Christmas
Who loves Christmas more than Geronimo? Nobody! But after his grandfather plans for the Stiltons to spend the holiday at the MacMouse's in New York instead of at Geronimo's, EVERYTHING starts to go wrong. Soon Geronimo is racing against the clock to save Christmas for his family.

The Way of the Samurai
Geronimo is high-tailing it to Japan! In the spirit of the samurai, Geronimo must battle deadly ninjas to stop an evil master from discovering a hidden parchment containing ancient martial arts secrets. But can Wild Willie and friends turn our favourite scaredy mouse into a Karate grandmaster?

The Race Across America
He's hardly a sportsmouse, so why would someone send him handlebars? Join Geronimo on a fur-raising ride across the United States! Along with his friend Bruce Hyena, Geronimo is about to cycle over 3,000 miles across deserts and mountains in the fa-mouse Race Across America. Cheese niblets!

The Mummy with No Name
Geronimo is on a seriously spooky mission! When Professor Cyril B. Sandsnout found an ancient mummy in the Egyptian Mouseum's basement, he thought he'd made an amazing discovery. Then it came to life and scared everyone away! What does it want? Geronimo and his friends are determined to find out.

Down and Out Down Under
Petunia Pretty Paws has landed! Right in the middle of Geronimo Stilton's busy life. Petunia's offer of an Australian adventure couldn't have come at a worse time, but apparently no isn't an option. Now one question remains: will Geronimo make it back to New Mouse City alive?

Valley of the Giant Skeletons
X marks the spot! Geronimo and his family journey to the scorching deserts of Mongolia to find their late-uncle's hidden treasure. But finding Uncle Wally's hiding place gets a lot harder when his diary is stolen by thieves! Can our heroes escape the desert and retrieve what's theirs?

Valentine's Day Disaster
Every Valentine's Day Geronimo Stilton throws a big party, and he's sure this one is going to be the best yet! Isn't it? When failed deliveries and burst sewer pipes leave Geronimo questioning what more could go wrong, a kindly stranger shows him that love really is all around.
Payment & Security
Payment methods
Your payment information is processed securely. We do not store credit card details nor have access to your credit card information.
---
Security