Roll over image to zoom in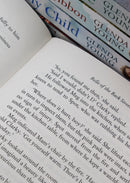 Tiles In this Set:
Belle of the Back Streets
The Tuppenny Child
Pearl of Pit Lane
The Girl with the Scarlet Ribbon
The Paper Mill Girl

Belle of the Back Streets
Everyone recognises the cry of Meg Sutcliffe as she plies her trade along the back streets of Ryhope. She learnt the ropes from her dad when he returned from the War. But when tragedy struck, Meg had no choice but to continue alone, with only her trusty dog Spot and beloved horse Stella for company. Now the meagre money she earns is the only thing that stands between her family's safety and predatory rent collector Hawk Jackson...

The Tuppenny Child
Those are the words that haunt Sadie Linthorpe. She is the talk of Ryhope when she arrives there, aged seventeen, alone, seeking work and a home in the pit village. But Sadie is keeping a secret - she is searching for her baby girl who was taken from her at birth a year ago and cruelly sold by the child's grandmother.

Pearl of Pit Lane
When her mother dies in childbirth, Pearl Edwards is left in the care of her aunt, Annie Grafton. Annie loves Pearl like her own daughter but it isn't easy to keep a roof over their heads and food on the table. Annie knows the best way to supplement their meagre income is to walk the pit lane at night, looking for men willing to pay for her company.

The Girl with the Scarlet Ribbon
When a new born baby girl is found abandoned with nothing but a scarlet ribbon tied to her basket, Ada Davidson, housekeeper of the wealthy McNally family's home, the Uplands, takes her into her care. Sworn to secrecy about the baby's true identity, Ada names her Jess and brings her up as her own, giving Jess no reason to question where she came from.

The Paper Mill Girl
Seventeen-year-old Ruth Hardy works long hours at Grange Paper Works, with her younger sister Bea, and spends her free time caring for their ailing parents. Their meagre income barely covers their needs, so when Bea reveals that she is pregnant out of wedlock, Ruth knows even tougher times are ahead.

Payment & Security
Payment methods
Your payment information is processed securely. We do not store credit card details nor have access to your credit card information.
---
Security