Roll over image to zoom in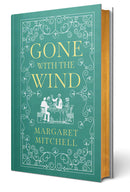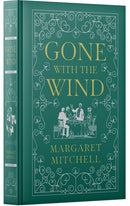 Step into the unforgettable world of Scarlett O'Hara and Rhett Butler with "Gone with the Wind" by Margaret Mitchell in this exquisitely crafted leather-bound edition. This timeless classic is a sprawling epic of love, war, and the indomitable human spirit set against the backdrop of the American Civil War.
Margaret Mitchell's storytelling weaves a rich tapestry of complex characters and historical events, capturing the essence of the antebellum South. As you turn the pages, you'll be transported to a bygone era of opulent plantations, romance, and the struggle for survival in a world torn apart by conflict.
Bound in sumptuous leather and adorned with intricate embossing, gilded edges, and a ribbon marker, this edition is a true collector's item and a centerpiece for any library. Whether you're a devoted fan of this literary classic or discovering it for the first time, this leather-bound volume is a gateway to the sweeping saga of Scarlett and Rhett, their unforgettable love story, and the enduring legacy of "Gone with the Wind." Immerse yourself in a piece of American literary history, presented in a form that exudes sophistication and elegance.
Payment & Security
Payment methods
Your payment information is processed securely. We do not store credit card details nor have access to your credit card information.
---
Security