Roll over image to zoom in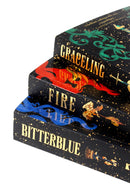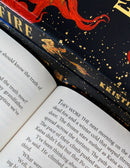 Titles in this Set:
Graceling
Fire
Bitter blue 
Graceling:
In a world where people born with an exceptional skill, known as a Grace, are feared and exploited, Katsa carries the burden of a skill even she despises: the Grace of killing. She lives under the command of her Uncle Randa, King of the Middluns, and is expected to carry out his dirty work, punishing and torturing anyone who displeases him. Breaking arms and cutting off fingers are her stock-in-trade. Finding life under his rule increasingly unbearable, Katsa forms an underground Council whose purpose is to combat the destructive behaviour of the seven kings.
Fire:
A must-read title for all fans of Patrick Rothfuss and Trudi Canavan, FIRE is an exceptional fantasy novel. From the deft characterisation to the gripping story, the fast-paced action to the evocative prose, this is one of the strongest fantasy novels of the year. Set in a world of stunningly beautiful, exceptionally dangerous monsters, Fire is one of the most dangerous monsters of all - a human one. Marked out by her vivid red hair, she's more than attractive. Fire is mesmerising. 
Bitterblue: 
Eight years have passed since the young Princess Bitter blue and her country were saved from the vicious King Leck. Now Bitter blue is the queen of Monsea, and her land is at peace. But the influence of her father, a violent psychopath with mind-altering abilities, lives on. Her advisers, who have run the country on her behalf since Leck's death, believe in a forward-thinking plan: to pardon all of those who committed terrible acts during Leck's reign; and to forget every dark event that ever happened.
Payment & Security
Payment methods
Your payment information is processed securely. We do not store credit card details nor have access to your credit card information.
---
Security