Roll over image to zoom in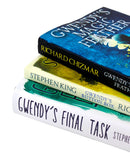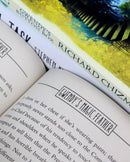 Titles:
Gwendy's Final Task [Hardcover]
Gwendy's Button Box
Gwendy's Magic Feather
Gwendy's Final Task [Hardcover]:

When Gwendy Peterson was twelve, a stranger named Richard Farris gave her a mysterious box for safekeeping. It offered treats and vintage coins, but it was dangerous. Pushing any of its seven coloured buttons promised death and destruction. Years later, the button box re-entered Gwendy's life. A successful novelist and a rising political star, she was once more forced to deal with the temptations that the box represented - an amazing sense of wellbeing, balanced by a terrifyingly dark urge towards disaster.


Gwendy's Button Box:

There are three ways up to Castle View from the town of Castle Rock: Route 117, Pleasant Road, and the Suicide Stairs. Every day in the summer of 1974 twelve-year-old Gwendy Peterson takes the stairs, which are held by strong (if time-rusted) iron bolts and zig-zag up the cliffside. One day, while Gwendy catches her breath and listens to the shouts of the kids on the playground and the chink of an aluminium bat hitting a baseball, a stranger calls out to her.


Gwendy's Magic Feather:

Something evil has swept into the small Maine town of Castle Rock on the heels of the latest winter storm. Sheriff Norris Ridgewick and his team are desperately searching for two missing girls. In Washington D.C., thirty-seven-year-old Gwendy Peterson couldn't be more different from the self-conscious teenaged girl who once spent a summer running up Castle Rock's Suicide Stairs.
Payment & Security
Payment methods
Your payment information is processed securely. We do not store credit card details nor have access to your credit card information.
---
Security