Roll over image to zoom in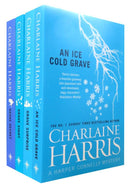 Titles In this Set:
Grave Sight:
Grave Surprise:
An Ice Cold Grave:
Grave Secret:
Grave Sight:
Harper Connelly had a lucky escape when she was hit by lightning: she didn't die. But sometimes she wishes she had died, because the lightning strike left her with an unusual talent: she can find dead people - and that's not always comfortable. Everyone wants to know how she does it: it's a little like hearing a bee droning inside her head.

Grave Surprise:
A bolt of lightning struck Harper Connelly when she was 15, leaving her with a strange spider web of red on her torso and right leg, episodes of weakness, shakes and headaches - and an ability to find dead people. Harper is summoned to Memphis to demonstrate her unique talent, but there are still plenty of sceptics, even as Harper stands atop a grave and announces there are two bodies buried there.

An Ice Cold Grave:
In her third case, Harper and Tolliver, her stepbrother, are hired to find a missing grandson. But the truth is far worse than a single dead child, for numerous teenage boys, all unlikely runaways, have disappeared from Doraville, North Carolina. Harper soon finds the eight bodies, buried in the half-frozen ground, but then, still reeling from coming into contact with her first serial killer, she is attacked and injured.

Grave Secret:
When she was 15, Harper Connelly was struck by a bolt of lightning, which left her with a spiderweb of red over her body, headaches, and episodes of weakness. Sometimes her right hand shakes. And she can find dead people.It's taken a while, but at last Harper's pretty happy with her life.
Payment & Security
Payment methods
Your payment information is processed securely. We do not store credit card details nor have access to your credit card information.
---
Security