Roll over image to zoom in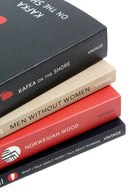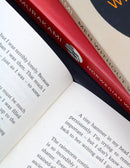 Titles In This Set:

Men Without Women
What I Talk About When I Talk About Running
Norwegian Wood
Kafka on the Shore


Men Without Women:
Across seven tales, Haruki Murakami brings his powers of observation to bear on the lives of men who, in their own ways, find themselves alone. Here are vanishing cats and smoky bars, lonely hearts and mysterious women, baseball and the Beatles, woven together to tell stories that speak to us all. Marked by the same wry humour that has defined his entire body of work, in this collection Murakami has crafted another contemporary classic.
What I Talk About When I Talk About Running:
In 1982, having sold his jazz bar to devote himself to writing, Murakami began running to keep fit. A year later, he'd completed a solo course from Athens to Marathon, and now, after dozens of such races, he reflects upon the influence the sport has had on his life and on his writing.
Norwegian Wood:
When he hears her favourite Beatles song, Toru Watanabe recalls his first love Naoko, the girlfriend of his best friend Kizuki. Immediately he is transported back almost twenty years to his student days in Tokyo, adrift in a world of uneasy friendships, casual sex, passion, loss and desire - to a time when an impetuous young woman called Midori marches into his life and he has to choose between the future and the past.
Kafka on the Shore:
The aging Nakata, tracker of lost cats, who never recovered from a bizarre childhood affliction, finds his pleasantly simplified life suddenly turned upside down. As their parallel odysseys unravel, cats converse with people; fish tumble from the sky; a ghost-like pimp deploys a Hegel-spouting girl of the night; a forest harbours soldiers apparently un-aged since World War II.
Payment & Security
Payment methods
Your payment information is processed securely. We do not store credit card details nor have access to your credit card information.
---
Security