Roll over image to zoom in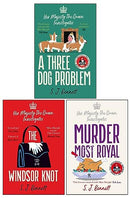 Introduction 
The "Her Majesty the Queen Investigates" series by author S.J. Bennett is a delightful collection of three novels that blend the charm of British royalty with the intrigue of a cozy mystery. Here's a brief summary of each book in the series:
Titles in this Set:
The Windsor Knot
A Three Dog Problem:
Murder Most Royal
Description 
The Windsor Knot: In this charming debut novel, Queen Elizabeth II, in an effort to relieve her insomnia, stumbles upon a new hobby: solving crimes. When a guest is found murdered at Windsor Castle, the Queen decides to discreetly investigate. Alongside her trusted confidante and secret investigator, Rozie Oshodi, Queen Elizabeth embarks on a journey to uncover the truth behind the crime while navigating the complexities of royal life.

A Three Dog Problem: In the second installment, Queen Elizabeth finds herself embroiled in yet another mystery. This time, her beloved corgis discover a dead body during a stroll on the grounds of Sandringham Estate. With her faithful companion Rozie by her side, the Queen dives into a web of secrets and intrigue, uncovering unexpected connections and untangling the threads of a complex case.

Murder Most Royal: In the third book, Queen Elizabeth is preparing for the Christmas holidays at Buckingham Palace. However, when a valuable painting goes missing and a curator is found dead, the Queen takes it upon herself to solve the puzzle. With her sharp wit and keen observation skills, she unravels the mystery behind the theft and murder, all while upholding the regal traditions of the monarchy.
The "Her Majesty the Queen Investigates" series is a delightful blend of mystery and royal charm, offering readers a unique and entertaining perspective on the world of British royalty. S.J. Bennett skillfully weaves together the intrigue of crime-solving with the rich backdrop of royal life, creating a series that is both engaging and endearing. With Queen Elizabeth II as the unexpected detective, these novels offer a fresh and enjoyable take on the cozy mystery genre.
Payment & Security
Payment methods
Your payment information is processed securely. We do not store credit card details nor have access to your credit card information.
---
Security