Roll over image to zoom in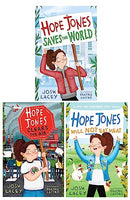 Introduction 
The "Hope Jones 3 Books Collection Set" by Josh Lacey is a heartwarming series that follows the lovable and spirited young girl, Hope Jones, as she navigates through exciting adventures and meaningful life lessons. Each book in the collection brings readers on a journey of discovery, friendship, and making a positive impact on the world.
Titles in this Set:
Saves the World,
Clears the Air
Will Not Eat Meat
Description
Book 1: "Hope Jones Saves the World": In this delightful first installment, we meet Hope Jones, a creative and imaginative young girl with a thirst for adventure. When she stumbles upon an old book filled with thrilling tales of heroism, Hope is inspired to embark on her own quest to save the world. Alongside her loyal friends, she sets out on an extraordinary and magical journey, encountering challenges, friendship, and courage along the way. As Hope Jones proves that even the smallest individuals can make a big difference, readers are drawn into a world of wonder and self-discovery.

Book 2: "Hope Jones Clears the Air": In the second book, Hope Jones finds herself confronting a different type of challenge - environmental issues. When she learns about the harmful effects of air pollution on the environment and living beings, Hope becomes determined to raise awareness and make a difference. With her passion and ingenuity, she encourages her community to take action in clearing the air and protecting their surroundings. Through her unwavering commitment, Hope teaches readers the importance of environmental responsibility and how everyone can play a role in safeguarding the planet.

Book 3: "Hope Jones Will Not Eat Meat": In the final installment, Hope Jones takes on another significant cause - animal welfare and vegetarianism. Moved by compassion for animals, she makes the decision to become a vegetarian and embarks on a journey of exploring new tastes and recipes. As Hope faces challenges and misconceptions about her choice, she perseveres and spreads awareness about the ethical and environmental impact of meat consumption. Through her determination and empathy, she demonstrates the power of individual choices in creating a more compassionate world.
Josh Lacey's "Hope Jones 3 Books Collection Set" is a captivating series that skillfully weaves together adventure, friendship, and important life lessons. Through the adventures of Hope Jones, young readers are inspired to explore their own creativity, embrace empathy, and take action to positively influence the world around them. This collection is a delightful and empowering read for children and parents alike, leaving a lasting impression on readers about the significance of kindness, courage, and making a positive impact.
Payment & Security
Payment methods
Your payment information is processed securely. We do not store credit card details nor have access to your credit card information.
---
Security