Roll over image to zoom in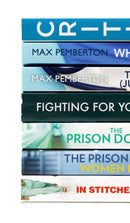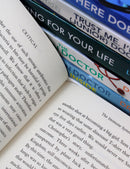 Titles In This Set:
In Stitches
Trust me I'm a (Junior) Doctor
Where Does It Hurt
Fighting For Your Life
The Prison Doctor Women Inside
The Prison Doctor
Critical

In Stitches:
Dr Nick Edwards is an Accident and Emergency (A&E) Doctor working in the UK and a passionate believer in the NHS. However the reforms, political correctness and the Anglo-Saxon culture of binge drinking and fighting and the resulting A&E.

Trust Me I'm a Junior Doctor:
Starting on the evening before he begins work as a doctor, this book charts Max Pemberton's touching and funny journey through his first year in the NHS. Progressing from youthful idealism to frank bewilderment, Max realises how little his job is about 'saving people' and how much of his time is taken up by signing forms.

Where Does it Hurt:
Fuelled by tea and more enthusiasm than experience, he attempts to locate and treat a wide and colourful range of patients that somehow his first year on the wards didn't prepare him for . . .

Fighting For Your Life A paramedic's story:
A teenage boy lies on the pavement, bleeding from a stab wound; a distraught mum watches, in mute shock, as her daughter suffers a terrifying fatal asthma attack; a young girl is gang-raped and her stricken boyfriend takes an overdose; a disturbed young man flings himself in front of a speeding train at the stroke of midnight on New Year's Eve.

The Prison Doctor Women Inside:
From the drug addicts who call Amanda 'the mother I never had' to the women who've pushed back at domestic abuse, to women close to release in their 70s, who just want to stay in the place that they've always known, these are stories that are heartbreaking, harrowing and heart-warming. Amanda listens, prescribes, and does what she can. After all, she's their doctor.

The Prison Doctor:
Violence. Drugs. Suicide. Welcome to the world of a Prison Doctor.Dr Amanda Brown has treated inmates in the UK's most infamous prisons – first in young offenders' institutions, then at the notorious Wormwood Scrubs and finally at Europe's largest women-only prison in Europe, Bronzefield.

Critical:
There is no room for error in the ICU. Full focus is required at all times.
It can be the difference between life and death.
 
Through the remarkable stories of his patients, Dr. Matt Morgan guides you through the body and its organs. He explains how various critical conditions arise, and all that goes into treating them – from the science, research and technology, to the tireless efforts of the doctors and nurses. This book gives you powerful insights about intensive care, many of which may prevent you, or those close to you, from ending up there. It will even teach you how to save a life.

Payment & Security
Payment methods
Your payment information is processed securely. We do not store credit card details nor have access to your credit card information.
---
Security