Roll over image to zoom in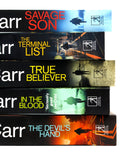 Titles In This Set:
True Believer
Terminal List
Savage Son

In the Blood 
The Devil's Hand  
Terminal List:
On his last combat deployment, Lieutenant Commander James Reece's entire team was killed in a catastrophic ambush. But when those dearest to him are murdered on the day of his homecoming, Reece discovers that this was not an act of war by a foreign enemy but a conspiracy that runs to the highest levels of government.
Now, with no family and free from the military's command structure, Reece applies the lessons that he's learned in over a decade of constant warfare toward avenging the deaths of his family and teammates. With breathless pacing and relentless suspense, Reece ruthlessly targets his enemies in the upper echelons of power without regard for the laws of combat or the rule of law.
True Beliver:
Following his brutal quest for revenge, former Navy SEAL James Reece has fled the United States, emerging deep in the wilds of Mozambique. But he can't stay hidden for long – when a string of horrific terrorist attacks plagues the Western world, the CIA tracks him down and recruits him.
Now a reluctant tool of the United States government, Reece must travel the globe, targeting terrorist leaders and unravelling a geopolitical conspiracy that will have worldwide repercussions . . .
Savage Son:
Deep in the wilds of Siberia, a woman is on the run, pursued by a man harboring secrets – a man intent on killing her.
Half a world away, James Reece is recovering from brain surgery in the Montana wilderness, slowly putting his life back together with the help of investigative journalist Katie Buranek and his longtime friend and SEAL teammate Raife Hastings.
Unbeknown to them, the Russian mafia has set their sights on Reece in a deadly game of cat and mouse.
In the Blood 
A woman boards a plan in Burkina Faso having just completed a targeted assassination for the state of Israel. Two minutes after takeoff her plane is blown out of the sky.
6000 miles to the east, James Reece watches the names and pictures of the victims cross cable news. One face triggers a distant memory of a Mossad operative attached to the CIA years earlier in Iraq, a woman with ties to the intelligence services of two nations, a woman Reece thought he would never see again…
The Devil's Hand 
It has been two decades since 9/11.
The enemy has been patient. The enemy has been learning. The enemy has been adapting. 
The enemy is ready to strike again . . . 
Former Navy SEAL James Reece must embark on a top-secret CIA mission of retribution twenty years in the making in this riveting and timely thriller that will leave you gasping for breath.
Payment & Security
Payment methods
Your payment information is processed securely. We do not store credit card details nor have access to your credit card information.
---
Security