Roll over image to zoom in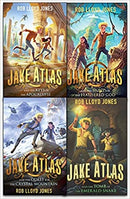 Titles In this Set
Jake Atlas and the Tomb of the Emerald Snake
Jake Atlas and the Hunt for the Feathered God
Jake Atlas and the Quest for the Crystal Mountain
Jake Atlas and the Keys of the Apocalypse
Jake Atlas and the Tomb of the Emerald Snake
Indiana Jones meets Mission Impossible in this riveting page-turning adventure by an award-winning author. The Atlas family is in trouble: Jake hides an addiction to stealing; his twin sister, Pan, has to conceal her genius, for fear of bullies. The siblings can't stop fighting - with each other and with their parents, stuffy professors of Ancient History.
Jake Atlas and the Hunt for the Feathered God
Jake Atlas and his family are on the run, hunted by international police while chasing the mysterious People of the Snake to stop them from hiding the secret history of humankind. But when the family's friend, Sami, is poisoned, the People of the Snake force the Atlases to work for them in exchange for a cure.
Jake Atlas and the Quest for the Crystal Mountain
Jake Atlas and his family are searching for the fifth emerald tablet that will reveal the secret to the history of humankind. At China's Terracotta Army Museum, Jake retrieves a clue to a safe passage into a nearby tomb, where the tablet is believed to be hidden.
Jake Atlas and the Keys of the Apocalypse
The keys hold back a force that wiped out a lost civilization - now, Jake and his family must find them to stop it from returning. Their mission leads them to the edges of what was the Roman empire - to a volcano in Morocco, Hadrian's Wall and an island in the Middle East.
Payment & Security
Payment methods
Your payment information is processed securely. We do not store credit card details nor have access to your credit card information.
---
Security