Roll over image to zoom in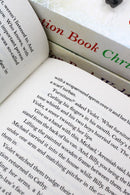 Titles In This Set:
A Ration Book Wedding
A Ration Book Christmas:
A Ration Book Daughter
A Ration Book Christmas:
With Christmas approaching, the Brogan family of London's East End are braving the horrors of the Blitz. With the men away fighting for King and Country and the ever-present dangers of the German Luftwaffe's nightly reign of death and destruction, the family must do all they can to keep a stiff upper lip.

A Ration Book Daughter:
Not even the Blitz can shake a mother's love. Cathy was a happy, blushing bride when Britain went to war with Germany three years ago. But her youthful dreams were crushed by her violent husband Stanley's involvement with the fascist black-shirts, and even when he's conscripted to fight she knows it's only a brief respite - divorce is not an option. Cathy, a true Brogan daughter, stays strong for her beloved little son Peter. When a telegram arrives declaring that her husband is missing in action, Cathy can finally allow herself to hope - she only has to wait 6 months before she is legally a widow and can move on with her life.
A Ration Book Wedding:
It's February 1942 and the American's have finally joined Britain and its allies. Meanwhile, twenty-three-year-old Francesca Fabrino, like thousands of other women, is doing her bit for the war effort in a factory in East London. But her thoughts are constantly occupied by her unrequited love for Charlie Brogan, who has recently married a woman of questionable reputation, before being shipped out to North Africa with the Eighth Army.
Payment & Security
Payment methods
Your payment information is processed securely. We do not store credit card details nor have access to your credit card information.
---
Security