Roll over image to zoom in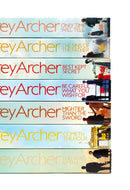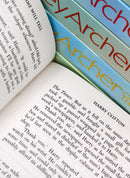 Titles in This Set
Only Time Will Tell
Best Kept Secret
The Sins of the Father
Be Careful What You Wish For
Mightier than the Sword
Cometh The Hour
This Was a Man 

This Was a Man (The Clifton Chronicles)
This Was a Man is the captivating final instalment of the Clifton Chronicles, a series of seven novels that has topped the bestseller lists around the world, and enhanced Jeffrey Archer's reputation as a master storyteller.This Was a Man opens with a shot being fired, but who pulled the trigger, and who lives and who dies?In Whitehall, Giles Barrington discovers the truth about his wife Karin from the Cabinet Secretary. Is she a spy or a pawn in a larger game?Harry Clifton sets out to write his magnum opus, while his wife Emma completes her ten years as Chairman of the Bristol Royal Infirmary, and receives an unexpected call from Margaret Thatcher offering her a job.Sebastian Clifton becomes chairman of Farthings Kaufman bank, but only after Hakim Bishara has to resign for personal reasons. Sebastian and Samantha's talented daughter, Jessica, is expelled from the Slade School of Fine Art, but her aunt Grace comes to her rescue.
Meanwhile, Lady Virginia is about to flee the country to avoid her creditors when the Duchess of Hertford dies, and she sees another opportunity to clear her debts and finally trump the Cliftons and Barringtons.
Cometh the Hour (The Clifton Chronicles)
Cometh the Hour opens with the reading of a suicide note, which has devastating consequences for Harry and Emma Clifton, Giles Barrington and Lady Virginia.Giles must decide if he should withdraw from politics and try to rescue Karin, the woman he loves, from behind the Iron Curtain. But is Karin truly in love with him, or is she a spy?Lady Virginia is facing bankruptcy, and can see no way out of her financial problems, until she is introduced to the hapless Cyrus T. Grant III from Baton Rouge, Louisiana, who's in England to see his horse run at Royal Ascot.Sebastian Clifton is now the Chief Executive of Farthings Bank and a workaholic, whose personal life is thrown into disarray when he falls for Priya, a beautiful Indian girl. But her parents have already chosen the man she is going to marry. Meanwhile, Sebastian's rivals Adrian Sloane and Desmond Mellor are still plotting to bring him and his chairman Hakim Bishara down, so they can take over Farthings.Harry Clifton remains determined to get Anatoly Babakov released from a gulag in Siberia, following the international success of his acclaimed book, Uncle Joe. But then something unexpected happens that none of them could have anticipated.


Mightier than the Sword (The Clifton Chronicles)
Mightier than the Sword opens with an IRA bomb exploding during the MV Buckingham's maiden voyage across the Atlantic - but how many passengers lose their lives?When Harry Clifton visits his publisher in New York, he learns that he has been elected as the new president of English PEN, and immediately launches a campaign for the release of a fellow author, Anatoly Babakov, who's imprisoned in Siberia. Babakov's crime? Writing a book called Uncle Joe, a devastating insight into what it was like to work for Stalin. So determined is Harry to see Babakov released and the book published, that he puts his own life in danger.His wife Emma, chairman of Barrington Shipping, is facing the repercussions of the IRA attack on the Buckingham. Some board members feel she should resign, and Lady Virginia Fenwick will stop at nothing to cause Emma's downfall.Sir Giles Barrington is now a minister of the Crown, and looks set for even higher office, until an official trip to Berlin does not end as a diplomatic success. Once again, Giles's political career is thrown off balance by none other than his old adversary, Major Alex Fisher, who once again stands against him at the election. But who wins this time?In London, Harry and Emma's son, Sebastian, is quickly making a name for himself at Farthing's Bank in London, and has proposed to the beautiful young American, Samantha. But the despicable Adrian Sloane, a man interested only in his own advancement and the ruin of Sebastian, will stop at nothing to remove his rival.


The Sins of the Father (The Clifton Chronicles)
Tom Bradshaw is arrested for first degree murder. He stands accused of killing his brother. When Sefton Jelks, a top Manhattan lawyer, offers his services for nothing, penniless Tom has little choice but to accept his assurance of a lighter sentence. After Tom is tried, found guilty and sentenced, Jelks disappears, and the only way for him to prove his innocence would be to reveal his true identity - something that he has sworn never to do in order to protect the woman he loves.Meanwhile, the young woman in question travels to New York, leaving their son behind in England, having decided she'll do whatever it takes to find the man she was to marry - unwilling to believe that he died at sea. The only proof she has is a letter. A letter that has remained unopened on a mantelpiece in Bristol for over a year.


Only Time Will Tell (The Clifton Chronicles)
The Clifton Chronicles is Jeffrey Archers most ambitious work in four decades as an international bestselling author.The epic tale of Harry Cliftons life begins in 1919, in the backstreets of Bristol. His father was a war hero, but it will be twenty-one tumultuous years before Harry discovers the truth about how his father really died and if, in fact, he even was his father.Only Time Will Tell takes a cast of memorable characters from the ravages of the Great War to the outbreak of the Second World War, when Harry must decide whether to take his place at Oxford, or join the fight against Hitlers Germany.


Be Careful What You Wish For (The Clifton Chronicles)
Be Careful What You Wish For, the fourth instalment in Jeffrey Archer's The Clifton Chronicles, opens with Harry Clifton and his wife Emma rushing to hospital to learn the fate of their son Sebastian, who has been involved in a fatal car accident. But who died, Sebastian or his best friend Bruno?When Ross Buchanan is forced to resign as chairman of the Barrington Shipping Company, Emma Clifton wants to replace him. But Don Pedro Martinez intends to install his puppet, the egregious Major Alex Fisher, in order to destroy the Barrington family firm just as the company plans to build its new luxury liner, the MV Buckingham.Back in London, Harry and Emma's adopted daughter wins a scholarship to the Slade Academy of Art where she falls in love with a fellow student, Clive Bingham, who asks her to marry him. Both families are delighted until Priscilla Bingham, Jessica's future mother-in-law, has a visit from an old friend, Lady Virginia Fenwick, who drops her particular brand of poison into the wedding chalice.


Best Kept Secret: 3 (The Clifton Chronicles)
The vote in the House of Lords as to who should inherit the Barrington family fortune has ended in a tie. The Lord Chancellor's deciding vote will cast a long shadow on the lives of Harry Clifton and Giles Barrington.Harry returns to America to promote his latest novel, while his beloved Emma goes in search of the little girl who was found abandoned in her father's office on the night he was killed.When the General Election is called, Giles Barrington has to defend his seat in the House of Commons and is horrified to discover who the Conservatives select to stand against him. But it is Sebastian Clifton, Harry and Emma's son, who ultimately influences his uncle's fate.
Payment & Security
Payment methods
Your payment information is processed securely. We do not store credit card details nor have access to your credit card information.
---
Security