Roll over image to zoom in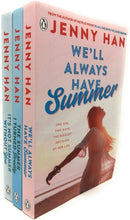 Titles in this set:
We'll Always Have Summer
The Summer I turned pretty
It's Not Summer Without You

We'll always have Summer
Just when Isabel thinks she had everything mapped out, life proves that when it comes to love, you can never have all the answers . . .

Isabel has only ever loved two boys, Conrad and Jeremiah Fisher. She's grown up with them, and can't imagine life without them. One broke her heart, the other made her happier than she ever thought she'd be. But each brother is keeping a secret from Isabel, and this summer she must choose between the Fisher boys, once and for all. Which brother will it be?

The Summer I turned Pretty
Every year Isabel spends a perfect summer at her favourite place in the world - the Fisher family's beach house. It has everything a girl could want: a swimming pool, a private stretch of sandy beach... and two (very cute) boys:

Unavailable, aloof Conrad - who she's been in love with forever
Friendly, relaxed Jeremiah- the only one who's ever really paid her any attention.
But this year something is different. This year, the boys seem to really notice Isabel for the first time. It's going to be an amazing summer - and one she'll never forget...

It's Not Summer Without You
When something is perfect, you hope it lasts forever. But Isabel's lazy, long hot summers at her family friends' beach house are over. Conrad is the only boy she's ever loved. But he's left for college, taking her heart with him. Jeremiah, his gorgeous younger brother, is still Isabel's best friend - but maybe friendship isn't enough for him anymore...

Isabel just wants everything to stay the same, because change means moving on. But if she stops looking back, could she find a future she never knew she wanted?
Payment & Security
Payment methods
Your payment information is processed securely. We do not store credit card details nor have access to your credit card information.
---
Security