Roll over image to zoom in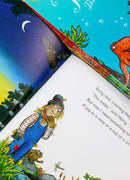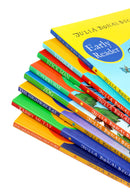 Titles in this set:
The Highway Rat
Stick Man
The Scarecrows Wedding
Tiddler
Tabby McTat
Zog
Superworm
Zog And The Flying Doctors


The Highway Rat
Julia cute bandit is still as naughty as ever but now he is easier to read. Hide your chocolate éclairs! Do you like buns? Or tasty sweets? So does the Highway Rat. If you have got them, he will steal them. No food is safe, and that's that. This rotten rodent steals nuts from squirrels. He hijacks his own horse hay. What can stop his appetite for snack-based crime? Perhaps a clever duck can save the day Are you reading alone? Do you love Julia and Axels funny picture books? Of course you do. So read this! The original bestselling story and artwork, now with a clearer font and layout. Good enough to eat. (But read it first.)

Stick Man
Read Stick Mans exciting story all by yourself. Race to the end of the book to help him get home! When Stick Man is snatched up by a dog one frosty morning, his whole world turns upside down. Soon he is being tossed into the river, woven into a swans nest and used as a flag mast on a sandcastle. Oh dear! As summer turns into winter, Stick Man is lost and frozen. Will he ever get back home to his Family Tree? Find out in this fantastic easy-read version of a snowy rhyme that everybody loves!

The Scarecrows Wedding
Bliss from the dream team behind The Gruffalo. A merry rhyme to fall in love with, now in a fantastic read-alone format. Scarecrows Harry O Hay and Betty O Barley are planning the perfect farmyard wedding. There is just one problem: a stinky old baddie wants to ruin the big day. Will horrid Reginald Rake spoil their magical story? Read this book to find out but dont forget your confetti!

Tiddler
The magical rhyming story of a tiny fish with a passion for spinning tall tales, now in a fantastic read-alone format. Did Tiddler really ride a seahorse? Did he truly meet a mermaid? What tale will Tiddler tell next? This wonderful early reader contains the complete story and artwork of Julia Donaldsons classic story, now with a clearer typeface and layout to support children who are gaining confidence in reading. As Tiddlers quick tongue and wild imagination save him from all kinds of sticky situations, his adventures will captivate your little one.

Tabby McTat
Julia and Axels purr-fect picture book, now with a simpler page layout that helps you read it alone. Meet a cat who will make you sing for joy! Nobody writes great rhymes like Julia Donaldson. And no one sings like Tabby McTat, the buskers cat! He loves to yowl along as people toss coins into Freds hat. But one terrible day, the friends lose each other. Will they ever sing songs together again? All the original text and art, but now with a clearer font and layout. Dont pussyfoot around: practise your reading with adorable Tabby McTat!

Zog
Axels great pictures and Julias funny rhymes are now easier to read. Give Zog a gold star. Practise your reading and have your socks charmed off by the worlds keenest little dragon. Zog loves school. He always does his best. Trouble is, his lessons never go to plan. He cant seem to win a gold star. But we dont care: we think he is top of the class! All the original words and pictures of the bestselling picture book. Now with a clearer layout and typeface to help you read it alone.
Superworm
Superworm is super-long.
Superworm is super-strong.
Watch him wiggle! See him squirm!
Hip, hip, hooray for SUPERWORM!
Never fear, Superworm's here!
He can fish Beetle out of a well, and rescue Toad from a busy road.
But who will come to Superworm's rescue, when he's captured by a wicked Wizard Lizard?
Luckily, all of Superworm's insect friends have a cunning plan...
Zog And The Flying Doctors
'Meet the Flying Doctors - a dragon, knight and girl.
Their names are Gadabout the Great, and Zog, and Princess Pearl.'
Princess Pearl, Sir Gadabout and their trusty 'air ambulance', Zog the dragon fly around tending a sunburnt mermaid, a distressed unicorn and a sneezy lion.
But should princesses really be doctors?
Pearl's uncle, the King, doesn't think so - until he himself falls ill, and only Pearl knows how to cure him.
Payment & Security
Payment methods
Your payment information is processed securely. We do not store credit card details nor have access to your credit card information.
---
Security