Roll over image to zoom in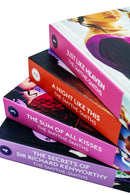 Titles in this Set:
Just Like Heaven
The Sum of All Kisses
The Secrets of Sir Richard Kenworthy
A Night like This 
Just Like Heaven
Honoria Smythe-Smith, the youngest daughter of the eldest son of the Earl of Winstead, plays the violin in the annual musicale performed by the Smythe-Smith quartet. She's well aware that they are dreadful. In fact, she freely admits (to her cousins) that she is probably the worst of the bunch. But she's the sort who figures that nothing good will come of being mortified, so she puts on a good show and laughs about it.

The Sum of All Kisses
Hugh Prentice has never had patience for dramatic females, and if Lady Sarah Pleinsworth has ever been acquainted with the words shy or retiring, she's long since tossed them out the window. Besides, a reckless duel has left this brilliant mathematician with a ruined leg, and now he could never court a woman like Sarah, much less dream of marrying her.

Sarah has never forgiven Hugh for the duel he fought that nearly destroyed her family. But even if she could find a way to forgive him, it wouldn't matter. She doesn't care that his leg is less than perfect, it's his personality she can't abide. But forced to spend a week in close company they discover that first impressions are not always reliable.

The Secrets of Sir Richard Kenworthy
Sir Richard Kenworthy has less than a month to find a bride . . . He knows he can't be too picky, but when he sees Iris Smythe-Smith hiding behind her cello at her family's infamous musicale, he thinks he might have struck gold. She's the type of girl you don't notice until the second-or third-look, but there's something about her, something simmering under the surface, and he knows she's the one.

Iris Smythe-Smith is used to being underestimated. With her pale hair and quiet, sly wit she tends to blend into the background, and she likes it that way. So when Richard Kenworthy demands an introduction, she is suspicious
A Night like This 
Anne Wynter's job as governess to three highborn young ladies can be a challenge - in a single week she finds herself hiding in a closet full of tubas, playing an evil queen in a play and tending to the wounds of the oh-so-dashing Earl of Winstead. After years of dodging unwanted advances, he's the first man who has truly tempted her, and it's getting harder and harder to remind herself that a governess has no business flirting with a nobleman.

Daniel Smythe-Smith might be in mortal danger, but that's not going to stop the young earl from falling in love. And when he spies a mysterious woman at his family's annual musicale, he vows to pursue her. But Daniel has an enemy, one who has vowed to see him dead. And when Anne is thrown into peril, he will stop at nothing to ensure their happy ending . . .
Payment & Security
Payment methods
Your payment information is processed securely. We do not store credit card details nor have access to your credit card information.
---
Security