Roll over image to zoom in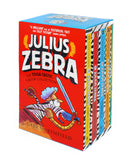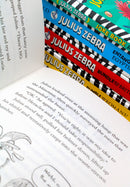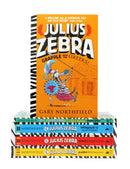 Titles in this Set
Rumble with the Romans
Bundle with the Britons
Entangled with the Egyptians
Grapple with the Greeks
Joke Book Jamboree

Rumble with the Romans
Madagascar meets Gladiator in this hilarious, exciting and action-packed new illustrated chapter book series from celebrated cartoonist Gary Northfield.

From the hilarious, celebrated cartoonist Gary Northfield - author of The Terrible Tales of the Teenytinysaurs! - comes a brand-new illustrated chapter book series set in Roman times! From a smelly watering hole deep in the heart of the Serengeti to the ferocious clamour of the Colosseum, join Julius Zebra and his motley menagerie of friends as they gear up to be ... gladiators! Only if they win the love of the Roman crowds will they win back their freedom. But do Julius and his pals have what it takes to succeed in a world where only the meanest and toughest survive? Madagascar meets Gladiator in this exciting, action-packed and hysterically funny story brimming with entertaining Roman facts.

Bundle with the Britons
From celebrated author and illustrator Gary Northfield comes the second adventure of this brilliant chapter book series. From the celebrated creator of Julius Zebra: Rumble with the Romans! comes a hilarious romp and mad-cap story set in Roman Britain, cram-packed with jokes and bursting with action. Julius and his pals must go to the far-off and strange land of Britain to win over the crowds of Hadrian's empire. But this will be no happy-go-lucky holiday. Instead of packing buckets and spades, our stripy hero and his friends will need all their wits about them if they're going to survive their most wild and rebellious gladiatorial opponents yet - the Britons! With a guide to Roman numerals and a fun, factual glossary in the back pages, this is a fast-paced, funny and utterly bonkers introduction to all things Roman Britain.

Entangled with the Egyptians
After being shipwrecked on the shores of Egypt and mistaken for a Horse God, Julius can't believe his luck! Soon he and his bedraggled friends will be living it up in the city of Alexandria; preened and pampered like gods. Then a fancy boat procession will take them down the River Nile to Memphis where a lavish party will be thrown in Julius's honour - as well as an obligatory tour of the Pyramids. BUT it is this very tour that seems to signal the end to their glorious fortunes in Egypt. On a visit to the Tomb of Cleopatra, Felix is unable to resist a rather lovely looking treasure for his rock collection... He pockets the jewel and immediately a curse falls upon the group. And so the ridiculous adventure begins where Julius fights for his life as the Egyptians come to unravel the truth and realize that he is not quite what they thought he was...

Grapple with the Greeks
The fourth title in Gary Northfield's award-winning, action-packed and hysterically funny series brimming with entertaining Ancient Roman and Greek facts.

In the much-anticipated fourth Julius Zebra book, Grapple with the Greeks!, demi-god Heracles promises Julius and his chums a great reward if they can help him to find the lost Golden Apple. On this madcap new adventure, our unlikely heroes will confront the Minotaur in the labyrinth, trick a one-hundred-headed dragon at the Garden of Hesperides and, after a dramatic visit to King Midas, perform a daring rescue attempt in the depths of the Underworld. But what will the ever-watchful gods on Mount Olympus have to say about their antics? A hugely enjoyable addition to this internationally popular series.

Joke Book Jamboree
The Champion of Rome returns, with the champion of all Joke Books!

Brimming with brazenly bonkers and clever jokes, this is the ideal handbook for kids with a budding comedic talent (and an essential guidebook for those without…). This new addition to the Julius Zebra collection encompasses all of Julius and friends' adventures.
Payment & Security
Payment methods
Your payment information is processed securely. We do not store credit card details nor have access to your credit card information.
---
Security