Roll over image to zoom in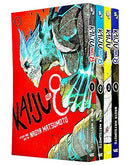 Introduction 
The "Kaiju No. 8 Vol 1-4: Collection 4 Books Set" by Naoya Matsumoto is an exciting and action-packed manga series that follows the adventures of the protagonist, Kafka Hibino, in a world plagued by colossal monsters known as "kaiju."
Titles in this Set 

Kaiju No. 8, Vol. 1:
Kaiju No. 8, Vol. 2:
Kaiju No. 8, Vol. 3:
Kaiju No. 8, Vol. 4:
Description 
Kaiju No. 8, In Volume 1, readers are introduced to Kafka, a low-ranking member of the Defence Force, tasked with combating these massive creatures. However, Kafka harbors a secret—he possesses the ability to transform into a kaiju himself. Volume 2 continues Kafka's journey as he grapples with his newfound powers, leading to unexpected alliances and confrontations with both kaiju and his fellow humans.

Kaiju No. 8, Vol. 2: The final test of the Defence Force has come to an end, but the examinees' challenges aren't over yet. A mysterious humanoid kaiju revives a neutralized honju and sics it on Kikoru Shinomiya. Just when Kikoru seems to be at the end of her rope, Kafka rushes to her defence! But what is the humanoid kaiju's goal?
Kaiju No. 8, Vol. 3: sees Kafka facing even more formidable kaiju threats and wrestling with his identity as a kaiju-human hybrid. As his abilities evolve, so do the challenges he must overcome. The story delves deeper into the mysteries of the kaiju and the organization that fights them.
Kaiju No. 8, Vol. 4: , the stakes escalate as a powerful kaiju threat emerges, putting Kafka and his comrades to the ultimate test. The series explores themes of identity, courage, and the moral complexities of battling monsters, both literal and figurative.
"Kaiju No. 8" is a thrilling manga series that combines gripping action sequences with character-driven storytelling. As Kafka Hibino grapples with his extraordinary abilities and the responsibilities they entail, readers are taken on an exhilarating journey filled with epic battles, secrets, and a deepening plot that keeps them eagerly turning the pages. Naoya Matsumoto's work in this collection set offers an immersive and exciting experience for fans of science fiction and monster-themed manga.
Payment & Security
Payment methods
Your payment information is processed securely. We do not store credit card details nor have access to your credit card information.
---
Security