Roll over image to zoom in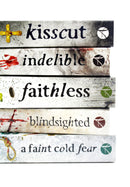 Titles In This Set:

Kisscut
Indelible
Faithless
Blindsighted
A Faint Cold Fear


Kisscut:
When a teenage quarrel in the small town of Heartsdale explodes into a deadly shoot-out, Sara Linton - paediatrician and medical examiner - finds herself entangled in a horrific tragedy. And what seems at first to be a terrible but individual catastrophe proves to have wider implications when the autopsy reveals evidence of long-term abuse and ritualistic self-mutilation.
Indelible:
When medical examiner Sara Linton and police chief Jeffrey Tolliver take a trip away from the small town of Heartsdale, it should be a straightforward weekend at the beach. But they decide to take a detour via Jeffrey's hometown and things go violently wrong when Jeffrey's best friend Robert shoots dead an intruder who breaks into his home.
Faithless:
A walk in the woods takes a sinister turn for police chief Jeffrey Tolliver and medical examiner Sara Linton when they stumble across the body of a young girl. Incarcerated in the ground, all the initial evidence indicates that she has, quite literally, been scared to death.
Blindsighted:
The sleepy town of Heartsdale, Georgia, is jolted into panic when Sara Linton, paediatrician and medical examiner, finds Sibyl Adams dead in the local diner. As well as being viciously raped, Sibyl has been cut: two deep knife wounds form a lethal cross over her stomach.
A Faint Cold Fear:
Sara Linton, medical examiner in the small town of Heartsdale, is called out to an apparent suicide on the local college campus. The mutilated body provides little in the way of clues - and the college authorities are keen to avoid a scandal.
Payment & Security
Payment methods
Your payment information is processed securely. We do not store credit card details nor have access to your credit card information.
---
Security