Roll over image to zoom in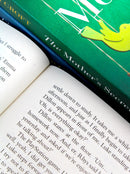 Titles In this Set:
The Lying Wife 
The Mother's Secret 
The Other Husband 
The Lying Wife
stranger to grief, it seems as though her luck has changed. She becomes his wife, and in the process a stepmother to his two sons. Callie has finally got what she always imagined for herself.
But things don't go to plan for Callie. She tries to get things right, but at every turn she makes mistakes. If she can only show her new family just how much she cares, perhaps everything will be okay. Yet the harder she tries, the more she fails. A split-second decision leads to her spiralling out of control, and there is no way back for Callie.
The Mother's Secret
Eve wanted nothing more than to be a mother. She and her husband, Aiden, planned to have a family, but with each devastating miscarriage her hopes dwindled. When she eventually gave birth to her daughter, Kayla, it should have been the happiest time of her life. Instead, it was a waking nightmare for Eve, and one she was desperate to escape.
Now, Eve has left all that behind. She pretends that she never had a child, and keeps her secrets close. But someone knows the truth. They know that Eve told a lie, and the clock is ticking before her shocking decision is revealed. Once the story comes out, there'll be no way out for Eve. If people learn about the crime she covered up, they'll never look at her the same way again. She must get her little girl back, before it's too late. If she can't, running away won't be an option. This time, Eve will face the consequences, and pay the price she should have paid years ago…
The Other Husband 
The night that throws a wrecking ball into Abby's life starts out perfectly at first. There's still a hint of summer sun in the purple-streaked sky. Abby and her best friend, Sienna, look on fondly as their two husbands laugh under the garden gazebo. None of them know it's the last time they will be together again.
What starts out as just a little fun, has devastating consequences for the couples. Alone with Sienna's husband, Greg, Abby finds him unexpectedly charming. And something happens that night that neither she nor Greg can take back.
Abby is desperate to tell her husband and Sienna the truth, but can't risk Greg sharing what he knows about her. She has no choice but to keep quiet. Then Greg suddenly disappears.
Payment & Security
Payment methods
Your payment information is processed securely. We do not store credit card details nor have access to your credit card information.
---
Security