Roll over image to zoom in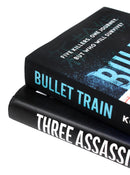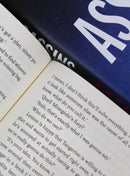 Bullet Train:
*SOON TO BE A MAJOR FILM*


Satoshi looks like an innocent schoolboy but he is really a viciously cunning psychopath. Kimura's young son is in a coma thanks to him, and Kimura has tracked him onto the bullet train heading from Tokyo to Morioka to exact his revenge. But Kimura soon discovers that they are not the only dangerous passengers onboard.

Nanao, the self-proclaimed 'unluckiest assassin in the world', and the deadly partnership of Tangerine and Lemon are also travelling to Morioka. A suitcase full of money leads others to show their hands. Why are they all on the same train, and who will get off alive at the last station?
Three Assassins:

Suzuki is just an ordinary man until his wife is murdered. When he discovers the criminal gang responsible he leaves behind his life as a maths teacher and joins them, looking for a chance to take his revenge. What he doesn't realise is that he's about to get drawn into a web of unusual professional assassins, each with their own agenda.
The Whale convinces his victims to take their own lives using just his words.
The Cicada is a talkative and deadly knife expert.
The elusive Pusher dispatches his targets in deadly traffic accidents.
Suzuki must take each of them on, in order to try to find justice and keep his innocence in a world of killers.
Payment & Security
Payment methods
Your payment information is processed securely. We do not store credit card details nor have access to your credit card information.
---
Security