Roll over image to zoom in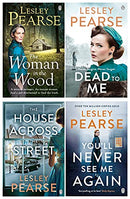 Titles in this set:
Dead to Me
The Woman in the Wood
The House Across the Street
You'll Never See Me Again
Discover a compelling story of loyalty, love and the strength of friendship in war-torn Britain, from the international bestselling author Lesley Pearse
Dead to Me:
Glorious, heartwarming' Woman & Home, Full of love, passion and heartbreak.
Spring 1935. On London's Hampstead Heath, two girls meet by chance: well-mannered and smartly dressed Verity and dishevelled and grubby Ruby. Somehow, the mismatched pair form an instant friendship strong enough to survive their parent's disapproval.
The Woman in the Wood
: 
London, 1960. The lives of teenage twins Maisy and Duncan change forever the night their mother is taken to an asylum. Sent to live in the New Forest with their cold-hearted grandmother, Mrs Mitcham, they feel unloved and abandoned.
The House Across the Street
: 
Is there a murderer across the street?
1964. Twenty-three-year-old Katy Speed is fascinated by glamorous Gloria and the goings-on at her house over the road. Who are the mysterious women that keep coming and going in the strange black car? Then one night, Gloria's house burns to the ground. Bodies are found in the wreckage.
You'll Never See Me Again
: 
Betty is running for her life.
When Betty's husband returns from the war broken and haunted, she knows her marriage is doomed. Taking a fleeting chance to escape, she goes on the run armed with a new identity. Yet penniless and alone, Betty quickly finds that starting again is much harder than she thought. And she never imagined it could end in murder . . .
But sometimes you have to keep running if you want to survive.
Payment & Security
Payment methods
Your payment information is processed securely. We do not store credit card details nor have access to your credit card information.
---
Security