Roll over image to zoom in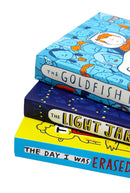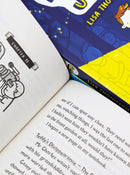 Titles In This Set:

The Light Jar
The Day I Was Erased
The Goldfish Boy


The Light Jar
Nate and his mother are running away, hiding out in a dilapidated cottage in the middle of a dark forest. When Mum heads off for provisions, and then doesn't return, Nate is left alone and afraid. But comfort can come from the most unexpected of places - a mysterious girl trying to solve a treasure hunt and the reappearance of an old friend.
The Day I Was Erased
The brand new read-in-one-sitting mystery from the author of unforgettable bestseller The Goldfish Boy. Eleven-year-old Maxwell is always, always in trouble. Roaming the town with his beloved pet dog Monster (who he rescued as a puppy from being run over) as a way to escape his parents' constant sniping at home, he's a menace to the neighbours and teachers at school. While visiting an elderly neighbour, Maxwell comes across a mysterious cabinet of curiosities and suddenly finds himself erased from his life: it's as if he's never existed. Able to walk around anonymously might be great at first - finally, no-one is yelling at him! - but he soon realises that he misses his old life and, crucially, if he had never existed, then he wouldn't have swooped in and stopped Monster the dog from being hit by that car... Maxwell needs to find a way to reverse his erasure
The Goldfish Boy
Twelve-year-old Matthew is trapped in his bedroom by crippling OCD, spending most of his time staring out of his window as the inhabitants of Chestnut Close go about their business. Until the day he is the last person to see his next door neighbour's toddler, Teddy, before he goes missing. Matthew must turn detective and unravel the mystery of Teddy's disappearance - with the help of a brilliant cast of supporting characters. Page-turning, heartbreaking, but ultimately life-affirming, this story is perfect for fans of The Curious Incident of the Dog in the Night Time and Wonder. It is a book that will make you laugh and cry.
Payment & Security
Payment methods
Your payment information is processed securely. We do not store credit card details nor have access to your credit card information.
---
Security