Roll over image to zoom in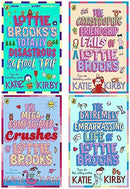 Introduction:
Join the delightful world of the 'Lottie Brooks Series' by Katie Kirby, a charming collection of four books that follow the heartwarming adventures of the spirited and endearing Lottie Brooks. These tales are filled with humor, curiosity, and life lessons as Lottie navigates the ups and downs of growing up, offering young readers a relatable and enjoyable journey through her everyday escapades.

Titles in this set:

The Extremely Embarrassing Life of Lottie Brooks
The Catastrophic Friendship Fails of Lottie Brooks
The Mega-Complicated Crushes of Lottie Brooks
Lottie Brooks's Totally Disastrous School-Trip

Description:

The Extremely Embarrassing Life of Lottie Brooks

Lottie Brooks is 11 ¾ and her life is ALREADY officially over.

Not only is she about to start high school without any friends or glamorous swooshy hair, she's just discovered she's too flat-chested to wear A BRA!


The Catastrophic Friendship Fails of Lottie Brooks

Lottie Brooks is back for spring term at secondary school and ready to face anything. No more trying to impress mean girl Amber. And absolutely no more being nicknamed Cucumber Girl.


The Mega-Complicated Crushes of Lottie Brooks

Lottie Brooks is BACK for more extremely embarrassing adventures as she goes on holiday and gets her very first boyfriend!

THINGS THAT ARE RUBBISH IN MY LIFE:
· Have the most disgusting little brother in the entire world
· Have to get braces when am on the brink of having my first kiss
· Mum is making cottage pie for dinner. VOM.


Lottie Brooks's Totally Disastrous School-Trip

Woe is me. So much is wrong in my life...

Still look like a tomato
Am stuck indoors whilst my friends go bowling without me (rude)
My parents are leaving me to go out on a 'Date Night'. GROSS!

Payment & Security
Payment methods
Your payment information is processed securely. We do not store credit card details nor have access to your credit card information.
---
Security