Roll over image to zoom in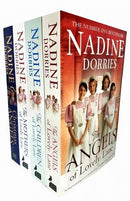 The Angels Of Lovely Lane

It is 1953 and five very different girls are arriving at the nurses' home in Lovely Lane, Liverpool, to start their training at St Angelus Hospital.Dana has escaped from her family farm on the west coast of Ireland. Victoria is running away from a debt-ridden aristocratic background. Beth is an army brat and throws her lot in with bitchy Celia Forsyth. And Pammy has come from quite the wrong side of the tracks in Liverpool.
The Children of Lovely Lane
The nurses of Lovely Lane – Dana, Victoria, Pammy and Beth – are now in their second year and are about to face some truly harrowing and difficult times on the wards.St Angelus needs a new assistant matron, but the members of the Liverpool District Hospital Board have overruled Emily Haycock and Dr Gaskell in their choice.
The Mothers of Lovely Lane
Noleen Delaney is one of an army of night cleaners at St Angelus Hospital. Son Finn has done something unheard-of and passed his Eleven Plus exam. How on earth will they pay for his books, his grammar school uniform and shoes?Bronia Ryan has battled depression since her husband died and now one of her sons is in prison.
Christmas Angels Of Lovely Lane
1950s Liverpool. Christmas is the mostharrowing time of year for the
nurses of St Angelus Hospital. A brilliant nurse secretly battling a fatal illness over
Christmas. A starving baby boy abandoned in the freezing cold. A
cruel,controlling mother determined to block her daughter's nursing career at
all costs.In the run up to Christmas; nurses Pammy and Beth are aiming to
win the coveted national decorating competition for the St Angelus children's
ward but drama after drama threatens to upset their plans. Amid the hardship and poverty of 1950s Liverpool only the humour 
and community spirit of nurses and patients will get the Angels through their 
toughest Christmas yet.
Payment & Security
Payment methods
Your payment information is processed securely. We do not store credit card details nor have access to your credit card information.
---
Security