Roll over image to zoom in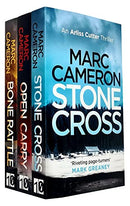 Titles In this Set:
Open Carry:
Stone Cross:
Bone Rattle:
Open Carry:
U.S. Marshal Arliss Cutter is a born tracker. After enlisting in the military and fighting in the Middle East, Cutter is sent to the icy wastelands of southeast Alaska. Three people have disappeared on Prince of Wales Island. Two are crew members of the reality TV show, Alaska Adventure Jobs. The other is a Tlingit Indian girl who had the misfortune of witnessing their murders. Cutter's job is to find the bodies, examine the crew's footage for clues, and track down the men who killed them. Easier said than done.
Stone Cross:
Winter comes early to the rural native community of Stone Cross, Alaska - and so does hunting season. But Arliss Cutter has come here for a very different game. A federal judge is receiving death threats and refuses protection. Cutter and his deputy Lola Teariki have been assigned to shadow him on his trip to this icy outland. They quickly discover that no one is ever really safe in a place like this. And no one is above suspicion. When Cutter and Lola arrive, the village is already gripped with fear. 
Bone Rattle:
In Juneau, a young archeologist is sent to protect the ancient burial sites uncovered by an Alaskan gold mining company. He never returns. In Anchorage, a female torso - minus head, hands, and feet - is washed ashore near a jogging trail by the airport. It is not the first. At Alaska's Fugitive Task Force, Arliss Cutter and deputy Lola Teariki are pulled from their duties and sent to a federal court in Juneau to keep track of sequestered jurors in a high-profile drug trial. When a prosecuting attorney is murdered - and a reporter viciously attacked - Cutter realizes they're dealing with something darker.
Payment & Security
Payment methods
Your payment information is processed securely. We do not store credit card details nor have access to your credit card information.
---
Security