Roll over image to zoom in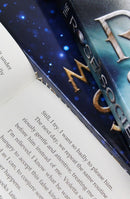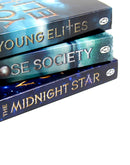 Titles in This Set

The Young Elites
The Rose Society
The Midnight Star

Description

A fantasy series that will transport you back to the 14th century, Marie Lu's The Young Elites series is packed with action and will appeal to fans of Harry Potter, X-Men and Game of Thrones.

The Young Elites
A decade ago, the deadly illness swept through her nation. Most of the infected perished, while many of the children who survived were left with strange markings. Adelina's black hair turned silver, her lashes went pale, and now she has only a jagged scar where her left eye once was. Her cruel father believes she is a malfetto, an abomination, ruining their family's good name and standing in the way of their fortune. But some of the fever's survivors are rumored to possess more than just scars-they are believed to have mysterious and powerful gifts, and though their identities remain secret, they have come to be called the Young Elites.

The Rose Society
Adelina Amouteru's heart is set on revenge. Now known and feared as the White Wolf, she and her sister flee Kenettra to find other Young Elites in the hopes of building her own army. Her goal: to strike down the Inquisition Axis, the white-cloaked soldiers who nearly killed her. But Adelina is no heroine. Teren Santoro, leader of the Inquisition, wants her dead. And her former friends at the Dagger Society want to stop her thirst for vengeance. Adelina struggles to cling to the good within her. But how can someone be good, when her very existence depends on darkness?

The Midnight Star
Adelina Amouteru is done suffering. She's turned her back on those who have betrayed her and achieved the ultimate revenge: victory. Her reign as the White Wolf has been a triumphant one, but the darkness within her has begun to spiral out of control, threatening to destroy everything. When a new danger appears, Adelina must join the Daggers on a perilous quest in order to save herself and preserve her empire. But this uneasy alliance may prove to be the real danger . . .
Payment & Security
Payment methods
Your payment information is processed securely. We do not store credit card details nor have access to your credit card information.
---
Security