Roll over image to zoom in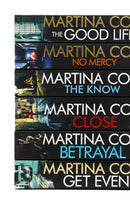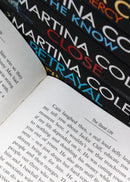 Titled In this Set:
The Good Life 
No Mercy 
The Know 
Close 
Betrayal 
Get Even
The Good Life 
Jenny is not just any girl. She cares nothing for Cain's hard-man reputation - she just wants to be with him.
But Cain is not a free man. And he's about to find out that when his wife Caroline said 'til death us do part, she meant it.
When Cain is sentenced to life in prison it seems that Caroline might have got her wish. All Cain and Jenny know is that if their love can survive such separation, then one day they will have a chance at the Good Life together again.
No Mercy 
Diana Davis has been head of the family business since the death of her husband, an infamous bank robber. She's a woman in a man's world, but no one messes with her.

Her only son, Angus, is a natural born villain, but he needs to earn Diana's trust before she'll allow him into the business.

Once he's proved he has the brains to run their clubs in Marbella, he is given what he's always wanted. It's the beginning of a reign of terror that knows no bounds.
The Know 
Joanie Brewer's children are everything to her. She gives them all the love she can, but she's brought them into a tough world. Her son Jon Jon is already up to his neck in a life of crime and her daughter Jeanette is more streetwise than a fourteen-year-old should be. Her youngest Kira, though, is too sweet and too innocent for their dark world.

Close 
Patrick Brodie knows exactly how far he's prepared to go to get what he wants. And he wants it all. Now. Before long, Patrick has become a legend in his own lifetime. Violently.
Lily Diamond is different from the kind of woman Patrick is normally attracted to. But together they are determined that their children will have everything they didn't. Until the unthinkable happens and Lily is left on her own to look after their family in a dangerous world. The Brodies must stay close to survive. But as everyone knows, your sins will find you out.
Betrayal 
Aiden O'Hara has been head of the family since he was a kid, and he's going to keep it that way.
Jade Dixon watches his back. Mother of his son, she's the one who makes him invincible.
Get Even 
Sharon Conway and Lenny Scott are childhood sweethearts. Everyone says they are too young, but nothing can keep them apart. Sharon doesn't question Lenny's business dealings and it isn't long before his reputation as a hard man destined for the top means they are living the good life with their sons.
But one night Lenny doesn't come home. It isn't the first time he has gone AWOL. But it is his last. He is found murdered - beaten to death in an act of brutality that shocks even the police. And Sharon never knows why.
Payment & Security
Payment methods
Your payment information is processed securely. We do not store credit card details nor have access to your credit card information.
---
Security