Roll over image to zoom in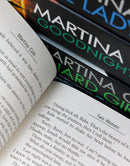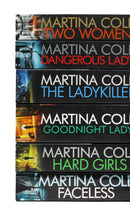 Titles In this Set 
Two Women 
Dangerous Lady 
The Lady Killer 
Goodnight Lady 
Hard Girls 
Faceless 
Two Women 
Banged up in Holloway, all that keeps her sane is knowing that her children are now safe from the man who terrorised them. What she can't predict is that the bonds she forms on the inside might just make - or break - her.
Dangerous Lady 
No one thinks a seventeen-year-old girl can take on the hard men of London's gangland, but it's a mistake to underestimate Maura Ryan: she's tough, clever and beautiful - which makes her one very dangerous lady.
The Lady Killer 
A killer is on the loose. It's up to DI Kate Burrows to stop him.

But Kate has a problem. The Grantley Ripper has attacked the daughter of one of London's most infamous gangsters, Patrick Kelly, and now Kate's investigation, along with her heart, are dangerously entwined with him.

As the worlds of crime and law collide, will Kate take down the Ladykiller, or will he be her undoing?
Goodnight Lady 
In the sixties, Briony Cavanagh ran a string of the most notorious brothels in London. Only Briony knew what went on behind those doors, and she never opened her mouth - unless she stood to benefit. Only Briony knew the painful road she'd travelled to get there. From an impoverished childhood that ended with shocking betrayal, she was determined to be mistress of her own fate. But along with success came risk and danger. And the Goodnight Lady had her own secret place that was always shadowed by loss.
Hard Girls 
Kate Burrows might be a retired DCI, but she never could stay away from the law for long. And now Grantley appears to have a new serial killer on its hands, Kate is the only one with the expertise to catch him.
The case bears striking similarities to the Grantley Ripper. But this time the victims are prostitutes, and even hard girls deserve protection and justice.
Faceless 
Marie Carter lost everything the day she went to prison for a double murder she doesn't remember committing. Her parents abandoned her, her friends disappeared. Even her children didn't want to know.
Twelve long years later, Marie is out and she's back to settle some scores...
Payment & Security
Payment methods
Your payment information is processed securely. We do not store credit card details nor have access to your credit card information.
---
Security