Roll over image to zoom in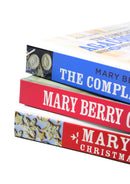 Titles In This Set:
The Complete Aga Cookbook
Cook Now, Eat Later
Mary Berry's Christmas Collection
The Complete Aga Cookbook

Whether you are an AGA aficionado or have never cooked on an AGA before, Mary Berry and Lucy Young's new AGA cookbook is just what you need by your side. It is 30 years since AGA first got in touch with Mary Berry about producing the AGA handbook and 15 since she followed it up with
Mary Berry's New Aga Cookbook
- now she has combined, improved, updated and revamped those books with Lucy's help to produce
The Complete Aga Cookbook
, which deserves its place on all 21st-century kitchen shelves. There have been many new trends in cooking in the intervening years, and a plethora of new ingredients, and Mary explores them in new recipes, adapting many ideas to the Aga way of cooking.


Cook Now, Eat Later


In our time-strapped lives, it isn't always easy to eat healthy home-cooked food every day of the week. You need never go hungry again with these delicious, straightforward recipes for cooking and preparing ahead. Whether you want to make a three-course meal on Friday night for guests or have a few yummy family suppers ready in advance, with more than 100 recipes to choose from, 
Cook Now Eat Later is perfect for the busy home cook.
Mary Berry's Christmas Collection

Let Mary solve all your Christmas troubles with this fabulous collection of her favourite Christmas recipes.Mary Berry's Christmas Collection
 combines time-honoured festive favourites with a variety of new and exciting dishes to spice up the season. By taking the traditional Christmas fare and giving it a twist, Mary adds sparkle to every celebration.
Simple yet reliable recipes and Mary's handy hints will take the pressure off entertaining, whether it's for the big day itself, a Boxing Day crowd or an intimate New Year family gathering.
Payment & Security
Payment methods
Your payment information is processed securely. We do not store credit card details nor have access to your credit card information.
---
Security