Roll over image to zoom in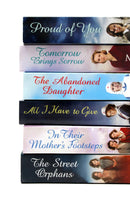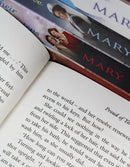 Titles In this Set:
The Abandoned Daughter 
Will Ella ever find what she's looking for? 
Voluntary nurse Ella is haunted by the soldiers' cries she hears on the battlefields of Dieppe. But that's not the only thing that haunts her. When her dear friend Jim breaks her trust, Ella is left bruised and heartbroken. Over the years, her friendships have been pulled apart at the seams by the effects of war. Now, more than ever, she feels so alone.
The Forgotten Daughter
The Forgotten Daughter by Mary Wood is the gripping first book in The Girls Who Went To War series. 
From a tender age, Flora felt unloved and unwanted by her parents, but she finds safety in the arms of caring nanny Pru. But when Pru is cast out of the family home, under a shadow of secrets, and with a young baby boy of her own to care for, it shatters little Flora.
Proud of You 
A heartfelt historical saga from Mary Wood, Proud of You is a page-turning novel with a compelling mystery at its heart. 
Alice, an upper-class Londoner, is recruited into the Special Operations Executive and sent to Paris where she meets Gertrude, an ex-prostitute working for the Resistance Movement. Together they discover that they have a connection to the same man, Ralph D'Olivier, and vow to unravel the mystery of his death.
All I Have to Give 
When all is lost, can she find the strength to start again? 
It is 1916 and Edith Mellor is one of the few female surgeons in Britain. Compelled to use her skills for the war effort, she travels to the Somme, where she is confronted with the horrors at the front. Yet amongst the bloodshed on the battlefield, there is a ray of light in the form of the working class Albert, a corporal from the East End of London. Despite being worlds apart, Edith and Albert can't deny their attraction to each other. But as the brutality of war reveals itself to Albert, he makes a drastic decision that will change both Edith and Albert's lives forever.
The Street Orphans 
Born with a club foot in a remote village in the Pennines, Ruth is feared and ridiculed by her superstitious neighbours who see her affliction as a sign of witchcraft. When her father is killed in an accident and her family evicted from their cottage, she hopes to leave her old life behind, to start afresh in the Blackburn cotton mills. But tragedy strikes once again, setting in motion a chain of events that will unravel her family's lives.
Payment & Security
Payment methods
Your payment information is processed securely. We do not store credit card details nor have access to your credit card information.
---
Security