Roll over image to zoom in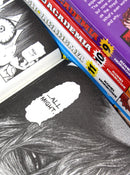 Titles In this Set:
My Hero Academia Volume 8
My Hero Academia Volume 9
My Hero Academia Volume 10
My Hero Academia Volume 11
My Hero Academia Volume 12
My Hero Academia Volume 8
What would the world be like if 80 percent of the population manifested superpowers called "Quirks"? Heroes and villains would be battling it out everywhere! Being a hero would mean learning to use your power, but where would you go to study? The Hero Academy of course! But what would you do if you were one of the 20 percent who were born Quirkless? The U.A. students have reached the practical portion of their final exam, but they didn't expect to have to beat their own teachers in order to pass! Paired with his archrival Bakugo, Midoriya has to try to take on none other than All Might himself. Working with Bakugo is one thing, but is giving everything he's got to beat All Might more than Midoriya can handle? And in a nearby arena, Yaoyorozu and Todoroki endure a similar struggle. All the while, a sinister new adversary prepares to make a move...

My Hero Academia Volume 9
It's off to summer camp for Midoriya and the U.A. students! But this is no ordinary vacation—it's high-impact training where the students are expected to develop their Quirks even further! The teachers have set up some tough challenges, but none will be as difficult and as life changing as the threat a new group of enemies poses. What's even worse is who the villains' target is and why…

My Hero Academia Volume 10
The League of Villains has kidnapped Bakugo, and the resulting negative publicity has thrown U.A. into a huge uproar. With the public's trust in heroes threatened, the faculty convenes to figure out what to do. But Midoriya and the students of Class 1-A have plans of their own—an operation to rescue Bakugo that could get them thrown out of school!

My Hero Academia Volume 11
Bakugo's abduction by the League of Villains was a carefully calculated move designed to draw out the Heroes—All Might in particular—and destroy them. Midoriya and his friends set out on a rescue mission that eventually pulls in not only All Might but also several other heroes! The casualties mount, until at last the mastermind of the plot appears—the only villain powerful enough to go head-to-head with All Might and possibly win…All For One!
My Hero Academia Volume 12
Class 1-A is working on developing their ultimate moves—a process that will test their strength and creativity in all-new ways! To help them out, Mei Hatsume, a student from the Support Class, is brought in to develop improvements to their costumes. The attention from Mei might be more than Midoriya can handle, but he'll need every edge he can get to pass the next hurdle for the students of U.A.—the Provisional Licensing Exam!
Payment & Security
Payment methods
Your payment information is processed securely. We do not store credit card details nor have access to your credit card information.
---
Security