Roll over image to zoom in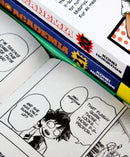 My Hero Academia 19
In the wake of tragedy, Class 1-A prepares for the upcoming culture festival. While the students are busy planning for success, other forces are at work with their own agendas, and Midoriya, amid the preparations, continues to train with All Might.
My Hero Academia 20
With All Might in retirement, Endeavor takes up the mantle of the number one hero, a position he's coveted for years. But now that he has it, he's not entirely comfortable with the responsibilities and risks that come with it—both heroes and villains are always gunning for number one.
My Hero Academia 21
Class 1-A's joint battle training with Class B continues! Class 1-A get the first win in the best-of-five series of all-out Quirk battles, but after some feedback from the teachers, the students square off again for a second round, and real rivalries form.
My Hero Academia 22
In the third match of the joint battle training, the students of Class 1-A have their hands full dealing with the unexpected creativity of Class B's Quirk use. These matches give everyone a chance to reflect on exactly where they all stand in comparison to each other and on the events in their lives that have brought them to this point. Then it's time for Bakugo to show what he's learned…
Payment & Security
Payment methods
Your payment information is processed securely. We do not store credit card details nor have access to your credit card information.
---
Security