Roll over image to zoom in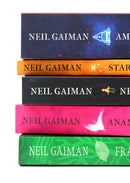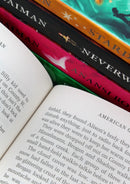 Titles In This Set
American Gods
Neverwhere
Stardust
Fragile Things
Anansi Boys

American Gods
But as the days and hours until his release tick away, he can feel a storm brewing. Two days before his release date, his wife Laura dies in a mysterious car crash, in adulterous circumstances. Dazed, Shadow travels home, only to encounter the bizarre Mr Wednesday, who claims to be a refugee from a distant war, a former god and the king of America.

Neverwhere
Under the streets of London there's a world most people could never even dream of. A city of monsters and saints, murderers and angels, and pale girls in black velvet. Richard Mayhew is a young businessman who is about to find out more than he bargained for about this other London. A single act of kindness catapults him out of his safe and predictable life and into a world that is at once eerily familiar and yet utterly bizarre.

Stardust
Life moves at a leisurely pace in the tiny town of Wall - named after the imposing stone barrier which separates the town from a grassy meadow. Here, young Tristran Thorn has lost his heart to the beautiful Victoria Forester and for the coveted prize of her hand, Tristran vows to retrieve a fallen star and deliver it to his beloved. It is an oath that sends him over the ancient wall and into a world that is dangerous and strange beyond imagining . . .

Anansi Boys
Fat Charlie Nancy is not actually fat. He was fat once but he is definitely not fat now. No, right now Fat Charlie Nancy is angry, confused and more than a little scared - right now his life is spinning out of control, and it is all his dad's fault.

Fragile Things
The distinctive genius of Neil Gaiman has been championed by writers as diverse as Norman Mailer and Stephen King. With THE SANDMAN Neil Gaiman created one of the most sophisticated, intelligent and influential graphic novel series of our time. Now Gaiman has produced FRAGILE THINGS, his second collection of short fiction. These stories will dazzle your senses, haunt your imagination and move you to the very depths of your soul.
Payment & Security
Payment methods
Your payment information is processed securely. We do not store credit card details nor have access to your credit card information.
---
Security