Roll over image to zoom in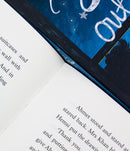 The Star Outside My Window
Ten-year-old Aniyah and her little brother Noah find themselves living in foster care after the sudden disappearance of their mum. With her life in disarray, Aniyah knows just one thing for sure: her mum isn't gone forever.
Aniyah believes that the people with the brightest hearts never truly disappear. They become stars. When scientists discover a new star acting strangely, Aniyah knows it's really her mum. To make sure everyone else knows, too, she embarks on the adventure of a lifetime--one that involves breaking into the Royal Observatory of London, and meeting the biggest star in Hollywood.
This is an honest yet empathetic exploration of how people respond to difficult circumstances, told through the innocent voice of a ten-year-old girl.
The Boy At The Back Of The Class
There used to be an empty chair at the back of my class, but now a new boy called Ahmet is sitting in it.

He's nine years old (just like me), but he's very strange. He never talks and never smiles and doesn't like sweets - not even lemon sherbets, which are my favourite!

But then I learned the truth: Ahmet really isn't very strange at all. He's a refugee who's run away from a War. A real one. With bombs and fires and bullies that hurt people. And the more I find out about him, the more I want to help.

That's where my best friends Josie, Michael and Tom come in. Because you see, together we've come up with a plan. . .
Payment & Security
Payment methods
Your payment information is processed securely. We do not store credit card details nor have access to your credit card information.
---
Security