Roll over image to zoom in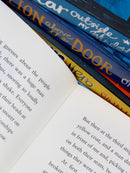 Titles In This Set:

The Night Bus Hero
The Star Outside my Window
The Boy At the Back of the Class
The Lion Above the Door
The Great (Food) Bank Heist


The Night Bus Hero:
I've been getting into trouble for as long I can remember. Usually I don't mind 'cos some of my best, most brilliant ideas have come from sitting in detention. But recently it feels like no one believes me about anything - even when I'm telling the truth!
The Star Outside my Window:
Following the disappearance of her mum, 10-year-old Aniyah suddenly finds herself living in foster care. With her life in disarray, she knows just one thing for sure: her mum isn't gone for ever. Because people with the brightest hearts never truly leave.
The Boy At the Back of the Class:
There used to be an empty chair at the back of my class, but now a new boy called Ahmet is sitting in it. He's nine years old (just like me), but he's very strange. He never talks and never smiles and doesn't like sweets - not even lemon sherbets, which are my favourite!
The Lion Above the Door:
Leo and his best friend Sangeeta are the odd ones out in their school. But as Leo's dad is always telling him, it's because they're special. Only thing is, if they're so special, how come they never see anyone who looks like them in their school history books?
The Great (Food) Bank Heist:
On Thursdays, Nelson, Ashley and Mum head out to the bank. But not just any old bank – the food bank. With its shining tins and packets of food stacked from floor to ceiling, Nelson thinks it's the best kind of bank there is. But there's a thief in town, and the shelves of the food bank are getting emptier each day, leaving people hungrier than ever.
Payment & Security
Payment methods
Your payment information is processed securely. We do not store credit card details nor have access to your credit card information.
---
Security