Roll over image to zoom in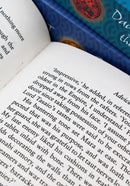 Mistress of the Empire
Following "Daughter of the Empire" and "Servant of the Empire", this novel brings the trilogy to a finish. Now Mara faces not only the brotherhood of assassins, and the spies of the rival ruling houses, but the Assembly of Magicians, who see her as the ultimate threat to their ancient power.

Servant of the Empire (Empire Trilogy 2)
Mara of the Arcoma, Ruling Lady of her house, has established herself as a force within the Empire and a deft player of the Game of the Council, the politics of the empire. When she finds a nobleman among a band of slaves from Midkemia, she soon involves him too in her political struggles.

Daughter of the Empire (Empire Trilogy 1)
Set in the mysterious world of Kelewan, an exotic empire encircled by murder and magic and where formal courts mask deadly intrigues, a valiant girl leads her followers through terror and peril - and discovers her own womanhood. Previous books by Raymond E.Feist include "Magician", "Silverthorn" and "A Darkness at Sethanon".

Payment & Security
Payment methods
Your payment information is processed securely. We do not store credit card details nor have access to your credit card information.
---
Security