Roll over image to zoom in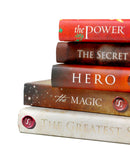 Titles In This Set:
Hero
The Power
The Secret
The Magic[Paperback]
The Greatest Secret
Hero:
HERO brings together the wisdom and insight of twelve of the most successful people living in the world today. By following their seemingly impossible journeys to success, HERO reveals that each of us was born with everything we need to live our greatest dream - and that by doing so we will fulfill our mission and literally change the world.
The Power:
Every discovery, invention, and human creation comes from The Power. Perfect health, incredible relationships, a career you love, a life filled with happiness, and the money you need to be, do, and have everything you want, all come from The Power.
The Secret:
The Secret by Rhonda Byrne is a self-help book that embarks to motivate the reader about a universal paradigm about success that can be achieved though it remains hidden for most people. The book explores about unveiling this little secret which may transform how people look at things and lead.
The Magic[Paperback]:
In The Magic a great mystery from a sacred text is revealed, and with this knowledge Rhonda Byrne takes the reader on a life-changing journey for 28 days. Step by step, day-by-day, secret teachings, revelations, and scientific law are brought together to form 28 simple practices that open the reader's eyes to a new world.
The Greatest Secret:
Rhonda Byrne, lays out the next quantum leap in a journey that will take the reader beyond the material world and into the spiritual realm, where all possibilities exist. The book reflects Rhonda s own journey, and shares the most direct way out for those experiencing hardship and the path to end pain.
Payment & Security
Payment methods
Your payment information is processed securely. We do not store credit card details nor have access to your credit card information.
---
Security