Roll over image to zoom in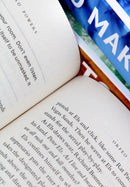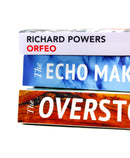 Titles In This Set:

The Overstory
The Echo Maker
Orfeo


The Overstory:
An artist inherits a hundred years of photographic portraits, all of the same doomed American chestnut. A hard-partying undergraduate in the late 1980s electrocutes herself, dies, and is sent back into life by creatures of air and light. A hearing- and speech-impaired scientist discovers that trees are communicating with one another. An Air Force crewmember in the Vietnam War is shot out of the sky, then saved by falling into a banyan.
The Echo Maker:
On a winter night, Mark Schluter's truck turns over in a near-fatal accident. His sister, Karin, returns reluctantly to their hometown to look after him. But when he finally awakes from his coma, Mark believes that Karin – who looks, acts, and sounds just like his sister – is really an identical impostor.
Orfeo:
Composer Peter Els opens the door one evening to find the police on his doorstep. His amateur science lab - the latest experiment in his lifelong attempt to find music in the most surprising places - has aroused the suspicions of Homeland Security. Panicked by the raid, Els turns fugitive. As an internet-fuelled hysteria erupts, Els - the 'Bioterrorist Bach' - pays a final visit to the people he loves, those who shaped his musical journey.
Payment & Security
Payment methods
Your payment information is processed securely. We do not store credit card details nor have access to your credit card information.
---
Security