Roll over image to zoom in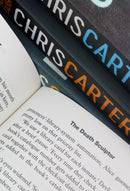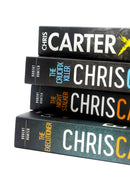 The Crucifix Killer
When the body of a young woman is discovered in a derelict cottage in Los Angeles, Robert Hunter is thrown into a nightmare case. The victim suffered a terrible death, and on the nape of her neck has been carved a strange double-cross: the signature of a psychopath known as the Crucifix Killer.
The Night Stalker
When an unidentified female body is discovered laid out on a slab in an abandoned butcher's shop, the cause of death is unclear. Her body bears no marks; except for the fact that her lips have been carefully stitched shut.
The Executioner
At first, Detective Robert Hunter believes that this is a ritualistic killing. But as more bodies surface, he is forced to reassess. All the victims died in the way they feared the most. Their worst nightmares have literally come true. But how could the killer have known? And what links these apparently random victims?
The Death Sculptor
For Hunter, there is no doubt that the killer is trying to communicate with the police, but the method is unlike anything he's ever seen before. And what could the hidden message be?
Just as Hunter and his partner Garcia reckon they've found a lead, a new body is found - and a new calling card. But with no apparent link between the first and second victims, all the progress they've made so far goes out of the window.
Pushed into an uncomfortable alliance with confident investigator Alice Beaumont, Hunter must race to put together the pieces of the puzzle . . . before the Death Sculptor puts the final touches to his masterpiece.
Payment & Security
Payment methods
Your payment information is processed securely. We do not store credit card details nor have access to your credit card information.
---
Security