Roll over image to zoom in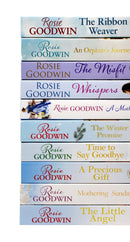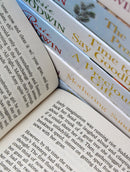 Titles In This Set:

The Winter Promise
Time To Say Goodbye
A Precious Gift
Mothering Sunday
An Orphans Journey
The Misfit
Whisperers
A Mothers Shame
The Little Angel
The Ribbon Weaver
The Winter Promise:
When Opal Sharp finds herself and her younger siblings suddenly orphaned and destitute, she thinks things can get no worse. But soon three of them - including Opal - are struck down with the illness that took their father, and her brother Charlie makes an impossible decision. Unable to afford a doctor, he knows the younger children will not survive. So, unbeknownst to Opal, Charlie takes their younger siblings to the workhouse. When she finds out, Opal is heartbroken, and things go from bad to worse when Charlie is accused of stealing and transported on a convict ship to Australia

Time To Say Goodbye:
Kathy has grown up at Treetops home for children, where Sunday and Tom Branning have always cared for her as one of their own. She enjoys her life at Treetops Manor, surrounded by her beloved horses, and with a future as a nurse ahead of her, she could wish for nothing more.
Her foster sister Livvy is not as driven as Kathy. Sunday is keen to see both her girls married, but Livvy has no intentions of settling down and would much rather spend time with her friends. When Kathy falls for the wrong man, her ambitions are soon forgotten as she embarks on a secret affair.

A Precious Gift:
When Holly Farthing's overbearing grandfather tries to force her to marry a widower twice her age, she finally says no. After he refuses to support her any longer, Holly flees to London, bringing her best friend and maid, Ivy, with her.

Mothering Sunday:

Fourteen-year-old Sunday Small has never lived outside the Nuneaton workhouse. The regime is cruel, and if it weren't for Miss Beau - who comes in every week to teach the children their letters - and her young friend Daisy, Sunday's life wouldn't be worth living. And now she's attracted the unwelcome attention of the workhouse master.
With no choice but to leave behind everything she knows, Sunday strikes out on her own to make her fortune and to fulfil her promise to come back for Daisy. And, secretly she dreams of finding the long-lost mother who gave her away.
An Orphans Journey:
Growing up in extreme poverty in London, Pearl thinks life can get no worse. But when her parents discover there's yet another baby on the way, they have to tighten the belt even further. Pearl's mother decides to send her and her younger sister Eliza to the workhouse, where they are forced into a new life of hardship and struggle.
The Misfit:
Abandoned outside a hospital, baby Rebecca didn't have a good start. She's adopted, but her new father can't warm to her, and her mother can't succeed in turning the plain, unresponsive child into the little princess she longs for.

Whisperers:
The old manor house has stood empty for years, left to rot since the last master of the Fenton family died. Until Jess Beddows steps inside, and feels she has come home. Against her family's wishes, she buys the house, promising to bring it back to life. Upstairs, in an attic room left untouched for a century or more, she finds a journal. It holds the heartbreaking tale of Martha, and of the cruel, entangled lives of the house's servants and masters nearly two hundred years before. As Jess is drawn into their tragedy, the whispers begin. Before long, everything she loves will be threatened by violent emotion and long-kept secrets. Can she survive the echoes from the past?


A Mothers Shame
One dismal day in 1857, Maria Mundy arrives at Hatter's Hall, the local mental asylum, not as an inmate but as a worker. Here, she is ordered to care for Isabelle Montgomery, the daughter of an influential land-owner. But Isabelle is not insane. She, like many other young women confined within the walls, has been banished here by her family. Hatter's Hall serves to hide unmarried women, in the family way, from prying eyes.
The Little Angel:
Left on the doorstep of Treetops Children's Home, young Kitty captures the heart of her guardian, Sunday Branning, who has never been blessed with a child of her own. Kitty brings sunshine and joy wherever she goes, and grows into a beguiling and favoured young girl.
The Ribbon Weaver:
One winter's night, Molly Ernshaw rescues a baby from the snow and changes two families for ever. The tiny girl grows into a gifted young woman and, encouraged by her neighbour's son, Toby, she dreams of moving beyond ribbon-weaving to designing the hats and clothes the ribbons adorn. When her talent is recognised by Samuel Forrester, the owner of famous hat factories and shops, Amy's flair leads her to London and then Paris. But Samuel and his family are haunted by the past and his troubled daughter-in-law is consumed with jealousy. As secrets are revealed, Amy is caught between two worlds and she must choose where her heart truly belongs.
Payment & Security
Payment methods
Your payment information is processed securely. We do not store credit card details nor have access to your credit card information.
---
Security