Roll over image to zoom in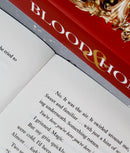 Titles In this Set:
Gods & Monsters
Serpent & Dove:
Blood & Honey:
Gods & Monsters 
The electrifying conclusion to the New York Times and Indiebound bestselling Serpent & Dove trilogy is perfect for fans of Sarah J. Maas and Kendare Blake.Lou has spent her whole life running. Now, after a crushing blow from Morgane, the time has come to go home—and claim what is rightfully hers.But this is no longer the Lou her friends knew. No longer the Lou who captured a chasseur's heart. A darkness has settled over her, and this time it will take more than love to drive it out.

Serpent & Dove:
Bound as one, to love, honor, or burn. Book one of a stunning fantasy trilogy, this tale of witchcraft and forbidden love is perfect for fans of Kendare Blake and Sara Holland.Two years ago, Louise le Blanc fled her coven and took shelter in the city of Cesarine, forsaking all magic and living off whatever she could steal. There, witches like Lou are hunted. They are feared. And they are burned.

Blood & Honey:
Lou, Reid, Coco, and Ansel are on the run from coven, kingdom, and church—fugitives with nowhere to hide.To survive, they need allies. Strong ones. But as Lou becomes increasingly desperate to save those she loves, she turns to a darker side of magic that may cost Reid the one thing he can't bear to lose. Bound to her always, his vows were clear: where Lou goes, he will go; and where she stays, he will stay.
Payment & Security
Payment methods
Your payment information is processed securely. We do not store credit card details nor have access to your credit card information.
---
Security