Roll over image to zoom in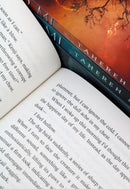 Titles In This Set:

Imagine Me
Find Me
Unite Me
Believe Me


Imagine Me:
Juliette Ferrars. Ella Sommers. Which is the truth and which is the lie? Now that Ella knows who Juliette is and what she was created for, things have only become more complicated. As she struggles to understand the past that haunts her and looks to a future more uncertain than ever, the lines between right and wrong – between Ella and Juliette – blur. And with old enemies looming, her destiny may not be her own to control.
Find Me:
Juliette is still reeling from Warner's betrayal, and Kenji is trying to balance his friendship with her with his responsibilities as a leader of the resistance against the Reestablishment. Things get even more interesting when an unexpected person from Omega Point's past surfaces.
Unite Me:
The mind-blowing events between Shatter Me and Unravel Me are told here from Warner's point of view. Even though Juliette shot him in order to escape, Warner can't stop thinking about her - and he'll do anything to get her back.
Believe Me:
Juliette and Warner fought hard to take down the Reestablishment once and for all. Life in the aftermath isn't easy, as they and their friends at the Sanctuary work with their limited resources to stabilize the world.
Payment & Security
Payment methods
Your payment information is processed securely. We do not store credit card details nor have access to your credit card information.
---
Security