Roll over image to zoom in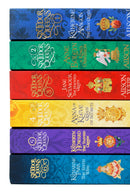 Titles In this Set:
Six Tudor Queens: Katherine of Aragon, The True Queen
Six Tudor Queens: Anne Boleyn, A King's Obsession
Six Tudor Queens: Jane Seymour, The Haunted Queen
Six Tudor Queens: Anna of Kleve, Queen of Secrets
Six Tudor Queens: Katheryn Howard, The Tainted Queen
Six Tudor Queens: Katharine Parr, The Sixth Wife
Six Tudor Queens: Katherine of Aragon, The True Queen
A Spanish princess. Raised to be modest, obedient and devout. Destined to be an English Queen. Six weeks from home across treacherous seas, everything is different: the language, the food, the weather.
Six Tudor Queens: Anne Boleyn, A King's Obsession
The young woman who changed the course of history. Fresh from the palaces of Burgundy and France, Anne draws attention at the English court, embracing the play of courtly love.
Six Tudor Queens: Jane Seymour, The Haunted Queen
THE WOMAN HAUNTED BY THE FATE OF HER PREDECESSOR. Eleven days after the death of Anne Boleyn, Jane is dressing for her wedding to the King
Six Tudor Queens: Anna of Kleve, Queen of Secrets
A GERMAN PRINCESS WITH A GUILTY SECRET. The King is in love with a portrait, but the real Anna does not enchant him. She must win him over. Everyone knows that Henry won't stand for a problem queen.
Six Tudor Queens: Katheryn Howard, The Tainted Queen
At just nineteen, Katheryn Howard is quick to trust and fall in love. She comes to court. She sings, she dances. She captures the heart of the King.
Six Tudor Queens: Katharine Parr, The Sixth Wife
A WOMAN TORN BETWEEN LOVE AND DUTY. Two husbands dead, a boy and a sick man. Now Katharine is free to make her own choice. The ageing King's eye falls upon her.
Payment & Security
Payment methods
Your payment information is processed securely. We do not store credit card details nor have access to your credit card information.
---
Security