Roll over image to zoom in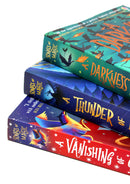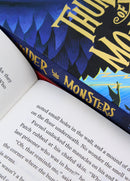 Titles In This Set:
A Darkness of Dragons
A Vanishing of Griffins
A Thunder of Monsters
A Darkness of Dragons

Patch Brightwater is a boy in disgrace. Thrown in jail for playing a forbidden spell, he is no one's idea of a hero. But then he discovers a deadly truth - the evil Piper of Hamelyn is on the loose. With the help of Wren, a girl cursed to live as a rat, and Barver, a fire-breathing dracogriff, Patch must stop the Piper sparking the biggest battle of them all.


A Vanishing of Griffins

Join the brave friends Patch, Wren and Barver for another adventure of magic and music! Thrill as they meet the Pirates of the Eastern Seas! Marvel as they venture to the only city where dragons and humans live side by side! Gasp as they journey high into the snowy peaks, where the greatest secret of the griffins lies hidden! And tremble as they come face to face once more with the increasingly powerful and evil Hamelyn Piper...


A Thunder of Monsters

Patch Brightwater and his friend Barver, the dracogriff, are trapped on a mysterious island full of monstrous beasts. Their shapeshifting friend, Wren, is being held prisoner by the Piper of Hamelyn, but she's working hard to escape. Clad in his suit of magical black armour and with dragons and a growing army on his side, the Piper of Hamelyn seems destined to bring chaos and destruction down on the world. Can anything stop him?
Payment & Security
Payment methods
Your payment information is processed securely. We do not store credit card details nor have access to your credit card information.
---
Security