Roll over image to zoom in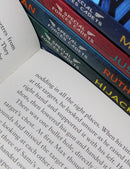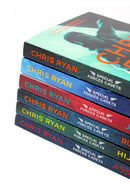 Titles In this Set:
Siege
Missing
Justice
Ruthless
Hijack
Assassin
Siege
A top-secret government programme needs a crack team of undercover military operators. They must have awesome levels of determination, endurance and fitness.
Missing
In this second book, the cadets are sent to North Korea. A British agent investigating the rogue state's nuclear capabilities has gone missing. The secretive nature of life in Pyongyang means that unfamiliar adults would be attract suspicion and fall under immediate surveillance.
Justice
An SAS team has been captured by a war lord who forces children to become soldiers. The Special Forces Cadets are parachuted into the Congo rainforest to help the team escape. But the operation starts to go wrong right away.
Ruthless
The ghettos of Brazil are crawling with street kids. They have nothing, and are forced into lives of crime in order to get enough to eat. Their life expectancies are short, not least because the Brazilian authorities allow paramilitaries to shoot them like rats.
Hijack
From the bestselling author of STRIKE BACK, Chris Ryan returns with a new action-packed series. Tough enough? Smart enough? Max will require all his skills just to stay alive as a Special Forces Cadet.
Assassin
Darius, son of an escaped Iranian scientist, is a pupil at an exclusive Swiss school, but his father's former bosses want him back and have no regard for the boy's LIFE or his FREEDOM. The Special Forces Cadets are sent to PROTECT Darius.
Payment & Security
Payment methods
Your payment information is processed securely. We do not store credit card details nor have access to your credit card information.
---
Security