Roll over image to zoom in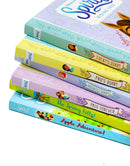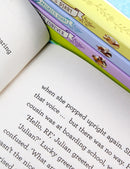 Titles In this Set 
Lucky's Diary
Pru's Diary
Abigail's Diary
Pals Forever Diary
Apple Adventure!
The Spring Filly!
Lucky's Diary
Dear Diary,

This summer is turning out to be so weird. After I broke Aunt Cora's expensive glass bottle, I was sure I'd be working all summer just to buy her a new one. That's when Pru, Abigail, and I decided to start our very own PALs Adventure Camp to earn some money and babysit youngsters around town! But now my con boy cousin, Julian, is visiting Miradero, and he left me to take care of his little brother, Oliver! I can't tell if Oliver is a mini Julian-in-training or just a quiet kid, but one thing's for sure: Julian is definitely up to his old tricks again....
Pru's Diary
Dear Diary,

Can you believe Lucky, Abigail and I are travelling to a circus exhibition with El Circo dos Grillos? It's supposed to be the most spectacular event, with tons of circuses performing their best acts and sharing in amazing traditions. I'll even get do my clown act...but I'm feeling a bit nervous about it. I wish Dad and Mom were here to help me out. Especially now, since this girl Catalina keeps acting like her clown performance is going to be better than mine. I know it's not a competition, but it's sure starting to feel that way. It'll just have to be my best performance EVER!
Abigail's Diary
Dear Diary,

Can you believe Lucky, Pru, and I finally made it to our first Frontier Fillies Jamboree? It's going to be three whole days of riding, bonding, and tons of Fillies traditions! There are badges we can earn, but there's one prize I'm most excited for...the Hungerford Heart. At the end of the Jamboree, everyone votes to give the trophy to the herd of Fillies who best uphold Frontier Fillies values. I KNOW my herd deserves it, but I don't know if we stand a chance. My annoying little brother, Snips, has shown up, and he's about to ruin EVERYTHING!
Pals Forever Diary
Dear Friend,

The PALs are splitting up for spring break! Pru's staying in Miradero to help her dad on the range, Abigail is visiting her fancy cousin, and Lucky is going on vacation to Destiny Falls with her dad and new stepmom. As if being apart isn't weird enough, nothing over break is going as expected! Pru needs to run a children's rodeo by herself, Abigail's cousin Ariella doesn't want to spend time with her, and Lucky's cousin Julian keeps hinting that Lucky's family might want to extend their visit to Destiny Falls...permanently! Not being together is hard, but we're still there for one another through it all.
Apple Adventure!
Lucky, Pru and Abigail couldn't be more excited! Each Frontier Fillies herd is holding a fundraiser for a very special Jamboree, and whichever team raises the most money will win the Golden Horseshoe! The PALs are sure the trophy will be theirs after they discover an orchard full of delicious apples plus a new friend named Vida! In exchange for her family's harvest to use in a bake sale, Vida gets riding lessons from Lucky and her friends. But when the PALs return to Miradero, it turns out Vida isn't the new friend they thought ..
The Spring Filly!
Spring is the season of change, and things are changing in Miradero - Lucky, Pru and Abigail will soon be heading off to Palomino Bluffs Riding Academy! Before they go, the PALs want to become Frontier Fillies Trail Trainers. But to do that, the girls need to find and train a brand-new horse--something Lucky has never done! It seems as if everything is coming together when the PALs fall in love with a mini horse named Sandy and are given the chance to train her before the Miradero Founders' Day Parade. But training a horse turns out to be more difficult than Lucky could have imagined. Sandy likes kicking, doesn't like being ridden, and refuses to listen to any of the PALs!
Payment & Security
Payment methods
Your payment information is processed securely. We do not store credit card details nor have access to your credit card information.
---
Security