Roll over image to zoom in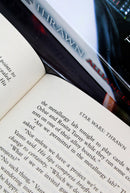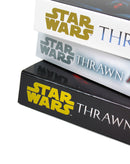 Titles In this Set:
Star Wars: Thrawn:
Thrawn: Treason:
Thrawn: Alliances:
Star Wars: Thrawn:
One of the most cunning and ruthless warriors in the history of the Galactic Empire, Grand Admiral Thrawn is also one of the most captivating characters in the Star Wars universe, from his introduction in bestselling author Timothy Zahn's classic Heir to the Empire, through his continuing adventures in Dark Force Rising, The Last Command, and beyond.

Thrawn: Treason:
Such was the promise Grand Admiral Thrawn made to Emperor Palpatine at their first meeting. Since then, Thrawn has been one of the Empire's most effective instruments, pursuing its enemies to the very edges of the known galaxy.

Thrawn: Alliances:
Ominous words under any circumstances, but all the more so when uttered by Emperor Palpatine. On Batuu, at the edges of the Unknown Regions, a threat to the Empire is taking root―its existence little more than a glimmer, its consequences as yet unknowable.
Payment & Security
Payment methods
Your payment information is processed securely. We do not store credit card details nor have access to your credit card information.
---
Security