Roll over image to zoom in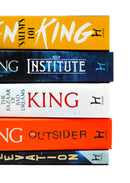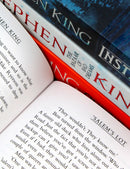 Titles In this Set
The Bazaar of Bad Dreams:
The Institute:
The Outsider:
Elevation:
Salem's Lot
The Bazaar of Bad Dreams:
There is a treasure here for every reader: a man who keeps reliving exactly the same life, repeating his mistakes over and over again; a columnist who kills people by writing their obituaries; a poignant tale about the end of the human race and a firework competition between neighbours which reaches an explosive climax.

The Institute:
NO ONE HAS EVER ESCAPED FROM THE INSTITUTE. Luke Ellis, a super-smart twelve-year-old with an exceptional gift, is the latest in a long line of kids abducted and taken to a secret government facility, hidden deep in the forest in Maine. Here, kids with special talents - telekinesis and telepathy - like Luke's new friends Kalisha, Nick and Iris, are subjected to a series of experiments.

The Outsider:
A horrifying crime. Water-tight evidence points to a single suspect. Except he was seventy miles away, with an iron-clad alibi. Detective Anderson sets out to investigate the impossible: how can the suspect have been both at the scene of the crime and in another town?

Elevation:
In the small town of Castle Rock word gets around quickly. That's why Scott Carey only confides in his friend Doctor Bob Ellis about his strange condition. Every day he's losing weight - but without looking any different.
Salem's Lot
'Salem's Lot is a small New England town with the usual quota of gossips, drinkers, weirdos and respectable folk. Of course there are tales of strange happenings - but not more than in any other town its size.
Ben Mears, a moderately successful writer, returns to the Lot to write a novel based on his early years, and to exorcise the terrors that have haunted him since childhood. The event he witnessed in the house now rented by a new resident. A newcomer with a strange allure. A man who causes Ben some unease as things start to happen: a child disappears, a dog is brutally killed - nothing unusual, except the list starts to grow.
Payment & Security
Payment methods
Your payment information is processed securely. We do not store credit card details nor have access to your credit card information.
---
Security